The Canadian Cancer Society stops the backslide
The organization target 19- to 29-year-old smokers with the launch of its digital "Break it Off" campaign.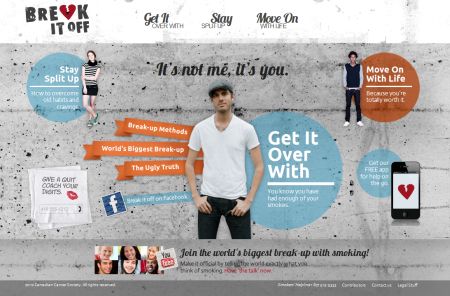 Trying to quit smoking is a lot like leaving a bad relationship, according to the new "Break it Off" campaign by the Canadian Cancer Society Smokers' Helpline, aimed at people aged 19 to 29. If you don't do it right, it can take more than one try.
"There was some initial discussion and internally we know that it will take four to seven attempts for a smoker to quit for good," Kyle A. McKeown, coordinator, communications, Smokers' Helpline at the Canadian Cancer Society, Ontario Division, tells MiC. "And there was some discussion about how that often mirrors a bad relationship. You know you shouldn't go back and it isn't good for you, but you just end up hooking back up with someone. It made for a great metaphor for the quitting process. "
The digital campaign with media by Burlington, ON.-based OKD Marketing Group and creative from Twist Image will be promoted on sites including The Weather Network, MuchMusic, MTV, TSN, The Score and The Score's mobile app, says McKeown.
The site, Breakitoff.ca includes the "World's Biggest Break-up" where you can submit a video declaring your lack of love for cigarettes in a public pledge. Users can also change their relationship status on Facebook to gain the support of their friends, with options ranging from "I have broken up with smoking" to "I have kicked smoking to the curb and left it crying and alone," says McKeown.
A mobile app for Android and the iPhone is also available to keep people from smoking on the go, he says.
"The app is designed to help trigger cravings on the go," he says. "There are a number of different options, from 'I'm tipsy' to 'I'm stuffed.' A lot of things people deal with when they are quitting is getting through situations where they used to use tobacco. Then we provide little tips and distractions to help them deal with these things."
The campaign launched this month and runs until March. McKeown hopes there is enough user response to warrant a second wave of ads later this year.