Le Huffington Post Quebec launches
MiC talks to Arianna Huffington about the new launch, which is sponsored by Bell, and HuffPost's first year with AOL.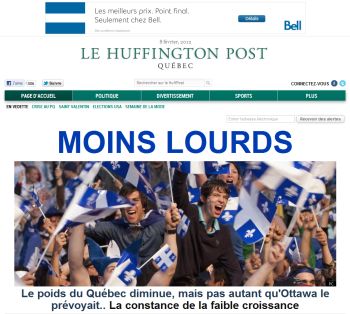 Le Huffington Post Quebec launches today, making Canada the only country in the world with more than one website from the media co, Arianna Huffington tells MiC.
Targeting more by interest than by age demographic, Huffington says Le Huffington Post Quebec expects audience of about 300,000 unique visitors per month based on the over 250,000 visitors to Huffington Post Canada from the province per month, according to comScore Inc.
The launch sponsor for Le Huffington Post Quebec is Bell, with its site takeover running a week, according to an AOL Canada representative. Ad opps, including standard and rich media ad units, are available on the site after the first week has passed.
Other ad opps, which AOL Canada calls "social marketing platforms," are also available, such as sponsored blogs, slide shows and signing on as sponsor of the commenting section of the site.
Huffington says launches like Huffington Post Canada and Le Huffington Post Quebec would not be possible without its $315-million takeover by AOL one year ago.
"The deal has given us all the resources to grow much faster than we were before," she says. "We launched 44 new sections for instance, launched three international editions, and have plans for more. These things would not be possible without AOL and their commitment to grow HuffPost."
Huffington also confirmed that HuffPost is also launching the Huffington Post Streaming Network later this week, a initiative that will see 12 hours of live original content being streamed on the US site per day beginning this summer. AOL Canada representatives say plans to release the platform on HuffPost Canada have not yet been confirmed.
Huffington Post Canada saw 2.3 million unique visitors to the site in Dec. 2011, according to comScore Inc.