MiC's Global Tour: TV show promotion
Katie Atkinson of Aegis Media gives her thoughts on the latest roundup of international executions, which includes promotions of The Walking Dead in Norway and Mad Men in the US.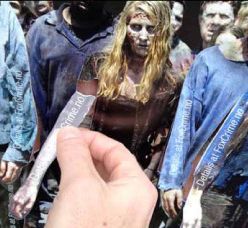 In the third edition of MiC's Global Tour, a regular column focusing on innovative international campaigns, we look at a series of promotions for popular TV shows. In the mix this week is a New York subway sketch board for the promotion of Mad Men as well as posters that give Norwegians the chance to dismember The Walking Dead zombies.
MiC asked Katie Atkinson, head of digital, Aegis Media, for her opinion on the international campaigns and whether or not she felt they were effective enough in their execution.
US: Mad Men targets creative commuters
Earlier this year, AMC provided a blank canvas (with the exception of a free-falling Don Draper) and aspiring New Yorkers have taken to trying their hands out at creative ad making. The posters were placed in subways to promote the March 25 premiere of Mad Men's fifth season and provided a space for imaginative drawings of hungry sharks and spouting whales, to name a few.
Atkinson: I think that this is a great campaign and really in tune with the spirit of the show, harnessing the creativity of New York City to spark debate.
Using buzz tracking tools would allow us to understand whether this campaign took off in the social space, but I can only estimate that MTA [Metropolitan Transportation Authority] cleaning the ads would have added to the positive noise.  In order to improve this campaign, I would have tagged the outdoor ads with a QR code so that users could have found more info about the new series or set a calendar reminder to their smartphone. Otherwise a Twitter handle would have allowed AMC to funnel any positive buzz into one area so that it could be easily amplified.
Click here to read the international story.
Norway: The Walking Dead get dismembered
Playing into the show's theme, Norway's Fox Crime worked with a small budget to create posters that allowed pedestrians to tear off the limbs of The Walking Dead zombies. Those who were interested in the connected iPhone4s giveaway were directed by the arm and leg tag to find out more at Foxcrime.no.
Atkinson: This is interesting but I'm not sure how effective it would have been in raising awareness for the show as there are no network or timing details. Instead people need to tear off limbs with the web address printed on them, which will have highly limited exposure.
Again, this could have been improved through the use of a clear URL or QR code. Additionally, the promotion is off brand as I'm not sure what the chance of winning a new iPhone means to driving awareness for the launch of a TV show.
Click here to read the international story.
US: Cougar Town extends the party invite to viewers
The show based on neighbourhood buddies hanging out launched a cross-country tour of the States where at least one of the show stars, either Courtney Cox or Busy Phillips, and as well as a writer, would attend fan-invited events. With the show being on hiatus for a while, some publications chalked the events up to being a plea to bring some much-needed attention to its third season, which premieres Feb. 14 on Citytv in Canada.
Atkinson: This should work well. As the show has been off air for an unusually long time, there will be plenty of buzz amongst fans crying out for new content. Running exclusive events such as these will tap into that buzz and generate a huge volume of earned media.
Click here to read the international story.
Have something you think we should mention in MiC's Global Tour? Email us at vmaloney@brunico.com.