Injecting positivity into the Globe and Mail
Starting today, What Makes You Happy magazine is being distributed bi-monthly in the newspaper, with ad opps available.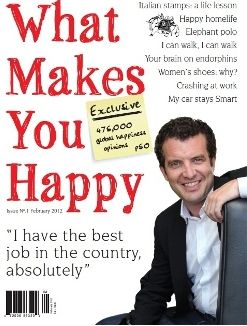 Happiness is a universal interest, this being the reason behind the launch of What Makes You Happy, a magazine published by Everybody Eats which brings positivity to the lives of Canadians.
Johnny Lucas, the editor of the magazine, tells MiC that the publication will be a hit with readers because it is a theme that everybody is interested in, especially advertisers.
"Frankly," he says, "we don't talk enough about being happy and advertisers want to be associated with content that is positive and gives back."
From a quick scan of the publication (which can be accessed on its website), advertisers in the first issue definitely get the idea, with a couple of vacation destinations aligning that message of happiness with their offerings. There's also an ad from Royal Lepage of a young girl painting a home on a wall with the tagline, "Helping You Find Your Happy Place."
The first issue hits today and will be distributed in 54,000 copies of the Globe and Mail – circulation will go up to 150,000 copies when the second issue is distributed in the summer on June 25. The publication will have a total of six issues each year. Subscriptions will be available, but right now, Lucas says that details have yet to be confirmed.
"We created this to be accepted and taken inside," he says, adding that there will be shorter upfront articles as well as feature style stories, which he hopes will enable it to become a coffee table book-style magazine rather than a straight-into-the-blue-bin insert.
A majority of Globe and Mail readers are post-graduates and working professionals, which is exactly the type of audience the publication plans to write for, he says. Lucas adds that the content will be funny (but not in a slapstick way), intelligent and certainly not condescending.
"This really is reverse engineering in that we're targeting the Globe and Mail readership and making this the right magazine for them," he says. "We are going out on controlled circulation in the Globe and Mail and we need something that is of interest to everybody. I don't want to have a small niche [target] where some of the copies don't get read."