Wheels.ca gets an app
The auto news site now offers advertisers an array of ad opps for its tablet app, with Toyota as the first to sign on.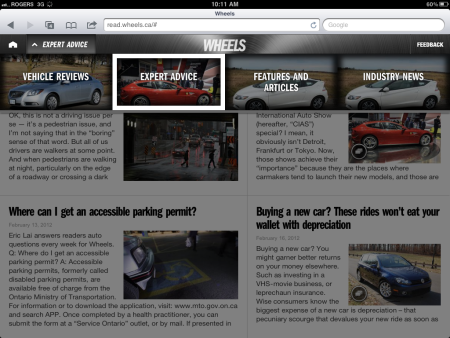 Wheels.ca is now mobile with the launch of its tablet app.
The auto news website's HTML5 app can provide brands with a range of opportunities to place rich media advertisements and ways to sponsor content, Kate Collins, senior brand marketing manager, Star Media Group tells MiC.
Toyota is the first to sign on with a three month contract, including opening page ads, video and photo galleries and interactive placements that allow users to touch and view different components of the brand's Scion car.
Dentsu and San Francisco-based agency, Attik (a division of the Dentsu Network West family) worked on the creative and placement of the ads.
"The full screen ads are really potentially powerful. It's up to the imagination of the agencies and advertiser to make use of the space," she says.
Collins adds that the full screen placement can either be a straight-forward series of photos of the vehicle or it can take form as an interactive hotspot which acts as a microsite, with video allowing consumers to browse through a panoramic view of the vehicle space.
Wheels.ca receives an average of 650,000 unique visitors per month and is targeted to an equal split of male and female consumers with 54% of visitors between the age of 24 to 54, says Collins.
"[The] majority of our audience [is] highly opinionated about cars and consider themselves to be influencers," she explains. "[And] more than 50% of our audience is in the market for a vehicle purchase."
The tablet app is available on the iPad, Samsung Galaxy Tab and BlackBerry PlayBook.
"We wanted to make sure that we did something that was really designed for a tablet audience," says Collins. "It's about browsing and enjoying the content and there is much bigger real estate, so you could do a lot more with visuals. [And] the automotive spaces make for great visual and video."