National Post partners to launch group deal site
The publisher has teamed up with GaggleUp to launch GaggleBiz, a deal site for small and medium-sized businesses.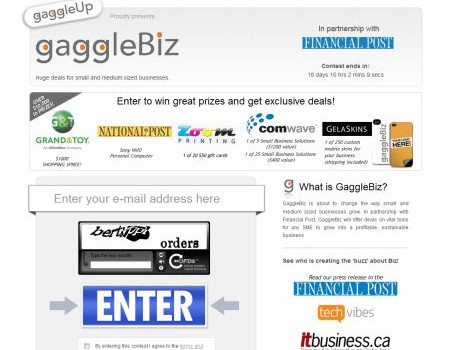 The National Post has announced it is teaming up with group-buying platform GaggleUp to launch GaggleBiz, a new daily deals site targeting small and medium-sized businesses.
Launching Monday April 2, the site is tied to the National Post's FP Entrepreneur section, which runs online and in the newspaper on Mondays. Douglas Kelly, publisher at the National Post, tells MiC the launch is a natural extension for the brand's audience.
Business owners sign up on the site and will be sent email notifications of daily deals, according to the release. Grand & Toy, Comwave, Gelaskins and Wave Accounting are all in discussions to launch deals on the site, according to a GaggleUp representative.
Kelly says the site will be promoted in the National Post's print and online properties, as well across the Postmedia network.