BCE to pay $3.38 billion for Astral Media
Montreal's Greenberg family is cashing out after over 50 years of building the Canadian TV, radio and outdoor advertising giant.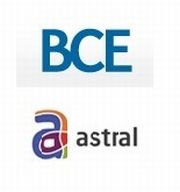 Recent rare appearances by Astral Media CEO Ian Greenberg on CTV's BNN business channel were one clue.
So too was a year-long 50th anniversary celebrated by Montreal-based Astral Media and its controlling Greenberg family.
The TV, radio and outdoor advertising giant was being dressed up for sale.
And the result was rolled out Friday: phone giant BCE has agreed to pay $3.38 billion for Astral Media to strengthen the telecom group's content presence in Quebec against rival Quebecor Media.
In a press conference this morning, Greenberg said today's announcement is "bittersweet" because he started Astral Media 50 years ago with his brothers in Montreal in an effort to keep his family together. Greenberg will sit on the BCE board of directors, following the closing of the deal.
He said Astral Media became serious about making a deal about six months ago. Greenberg added that the deal never went to auction, and that BCE is the perfect cultural fit with Astral Media.
BCE, which last year acquired the former CTVglobemedia as yet another content play, will acquire all outstanding shares of Astral Media.
That hands BCE control of Astral's specialty and pay TV channels, radio stations, digital media properties and out-of-home advertising platforms nationwide.
The deal, which is subject to CRTC approval, includes around $380 million in assumed debt, and will be funded by around 75% in cash to acquire Astral equity, and another 25%, or $750 million, in BCE common equity.
George Cope, president and CEO, BCE said at the press conference that the company will work with the CRTC in the few radio markets where there is overlapping stations. He added that he thinks the CRTC will look favourably on the deal because he says BCE still has a smaller market share than Quebecor in Quebec, so this will increase competition.
"Bringing together two respected and longstanding Montreal brands, Bell's acquisition of Astral firmly establishes our company as Quebec's media leader," Cope said in a statement.
"Bell is gaining a well-seasoned national Astral management team, dramatically expanding our French-language content, and more than levelling the playing field with our largest broadcast media competitor in Quebec," Cope added.
From Playback Daily, with files from Val Maloney