George Cope: Astral deal helps BCE bulk up in Quebec
Astral CEO Ian Greenberg said the phone giant was chosen to buy the media empire in part to preserve as much of his 2,800-strong workforce as possible.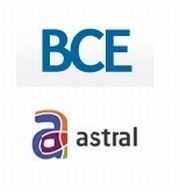 Ian Greenberg had history on his mind Friday as the Astral Media CEO and BCE unveiled a $3.38 billion deal that will see the phone giant acquire his family-controlled media empire founded in 1961.
"Obviously this is an exciting moment in the history of Astral," Greenberg said during an analyst call Friday morning after the friendly takeover that will fold Astral Media into Bell Media was announced.
"We've come to know Bell very well as a commercial partner over the last 50 years. And I truly look forward in the future to seeing the Astral brand become even stronger as part of the Bell family," he added.
BCE on Friday pitched the acquisition of the Montreal-based TV, radio and outdoor advertising giant as key to raising the phone giant's content distribution business in Quebec.
"This puts us now head-to-head in Quebec against Quebecor and Radio-Canada," George Cope, CEO of BCE, told analysts during the same conference call.
Swallowing Astral will give Bell Media a 32% share of Quebec French-language TV viewers, against Quebecor, which has a 35% share, and CBC/Radio Canada, with a 19% share.
BCE, which last year acquired the former CTVglobemedia as yet another content play, will acquire all outstanding shares of Astral Media.
Cope told analysts that the CTVglobemedia assets, outside of sports with RDS, did not have strong representation in the Quebec market until the Astral acquisition.
Astral now gives it that Quebec market leverage, including reach when it comes to mobile content, as BCE continues to pursue a four-screen strategy.
Major French-language assets headed to Bell Media include Super Ecran, Canal Vie, Vrak.tv and, on the radio side, station groups like Rouge FM.
Astral's major media assets include specialty and pay TV channels, radio stations, digital media properties and out-of-home advertising platforms.
Cope also stressed the Astral Media deal hands his group a host of assets outside of Quebec, including HBO Canada and The Movie Network, the eastern Canadian pay TV network.
That's key as Cope added that the Astral deal, combined with the year-earlier CTVglobemedia acquisition, helps "leverage our scale" against Netflix Canada and other U.S. over-the-top digital platforms now targeting Canadian consumers.
BCE paid Class A shareholders $50 a share, and the acquisition will be financed with a combination of cash and stock.
BCE paid 10 times Astral's 2012 EBITDA, which represents the same multiple paid a year earlier to CTVglobemedia to acquire the CTV conventional network and a stable of specialty channels.
The phone giant requires Competition Bureau and CRTC approval for its deal, but no Industry Canada scrutiny.
BCE's Cope added Bell Media is not expected to spin-off any Astral Media assets as none are considered non-core.
That includes the outdoor advertising division, which Cope said was a growth business, with big telecom firms as major advertising clients.
At the same time, job cuts at both BCE and Astral Media are expected, as Cope stressed two publicly traded companies are coming together.
"There will be work done within Astral and the Bell team to find ways to optimize the cost structure," Cope added.
Astral's Ian Greenberg stressed that BCE was chosen as a buyer for the media group in part to preserve as much of the current 2,800-strong Astral workforce, including management, as possible.
"We chose Bell because it was the best fit for our people. I wanted to make sure going forward that our people would feel at home in a corporation that truly had a need for them," he told analysts.
Ian Greenberg, who along with three brothers 50 years ago started what today stands as a major Canadian media group, is to sit on the BCE board of directors on the closing of the deal.
From Playback Daily