Secret Location, Thunderbird Films win Digital Emmy
The transmedia episode Endgame Interactive, a digital extension of the former Showcase drama, earned the award in the fiction category.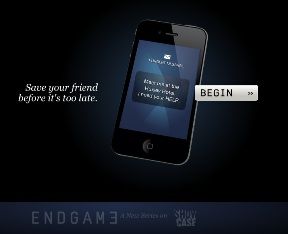 Endgame Interactive, the digital extension from Thunderbird Films and Secret Location of the former Showcase drama, on Sunday picked up an International Digital Emmy award in the fiction category, at a ceremony held in conjunction with MIPTV's opening night in Cannes.
The transmedia episode's narrative is created using information from the user's Facebook account, with the user dictating the sequence of events, including searching for clues and questioning suspects.
The project also features three stand-alone mini-games and behind-the-scenes interviews with Endgame cast and crew, including series star Patrick Gallagher.
The site has generated over 500,000 views, according to numbers provided by Secret Location.
Shaw Media head of online content Chris Harris, Secret Location founder and exec producer James Milward, producer CJ Hervey, technical director Ryan Andal and creative director Pietro Gagliano accepted the award at Cannes.
The International Digital Emmy Awards celebrate the best in digital entertainment across the globe.
From Playback Daily