The goods on commercial ratings: BBM Staying Tuned conference
David Schweidel of the Wisconsin School of Business on what brands need to pay attention to when booking their TV spots.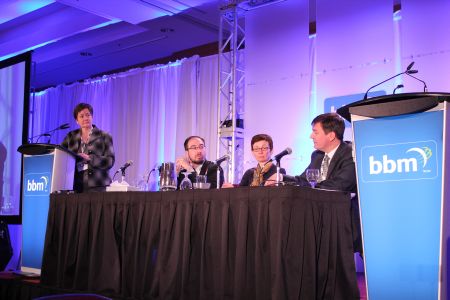 At yesterday's BBM Staying Tuned conference, David Schweidel, statistician and marketing professor, Wisconsin School of Business, discussed the use of Set Top Box (STB) data to gather commercial ratings and the effectiveness of the combination of product placement and advertising during TV programs.
Schweidel, having gathered US commercial-break ratings and insight into audience engagement with the help of Kantar Media, says that STB provides viewers with more data at a granular level, and basing audience reach solely on program ratings just doesn't cut it anymore.
Using examples of STB data taken from programs such as Bones and Prison Break on FOX, the marketing professor showed how the latter series, with a larger audience than the former, received big audience drops between commercials. But, when looking at the less popular Bones, the audience loss during the break was much less. He says that advertisers should keep a close eye on smaller shows that keep a more-or-less constant audience throughout programming and have more opportunity for price bargaining.
"On average we see a 7% audience loss, but in some cases there is more than a 20% audience loss, in some cases there is actually audience gains during the commercial breaks," he adds. "Using this type of data, from an advertiser standpoint, I'd rather be in a program that's not going to lose much of an audience, at least there I'm getting the audience that I'm paying for."
When it comes to the relationship between program advertising and product placement, the timing of placement relative to the commercial can have either beneficial or detrimental effects on audience retention, he says.
For example, if a Ford truck is placed at the beginning of the episode and the following commercial break has a GM ad, the audience retention will be lower, he says. But if the same brand has both product placement and an advertisement during the show, audience retention increases.
"This is potentially going to have some pricing implications as far as content developers and broadcasters, and there is an opportunity to create a win-win scenario for the networks and the advertisers," he adds.
Image from left to right on the panel: David Schweidel, University of Wisconsin-Madison School of Business, Hanne Teigum, TNS Gallup and Bjarne Thelin, Broadcasters' Audience Research Board.