Reitmans helps deal with fashion nightmares
The clothing retailer's spokesmen Armand and Albert are back in the latest campaign that shows what their dreams are made of.
The biggest fashion nightmare of most women is ill-fitting clothes. So it's only natural that Reitmans' fashion-obsessed spokesmen, Armand and Albert, also have nightmares about clothing faux pas.
This year the focus for the Reitmans' campaign, by Taxi's Montreal office, highlights fashion that fits as part of its evolving "Designed for real life" platform.
"[We're] tapping into the insight that when most women go shopping, they really have a hard time finding clothes that fit," Brian Gill, CD, Taxi, tells MiC. "We thought, [this] would really bug [Armand and Albert], it would drive them crazy. If they had a nightmare, [bad fit] would be it for these guys."
The commercial will live almost exclusively on specialty channels geared at women, such as Bravo, HGTV, National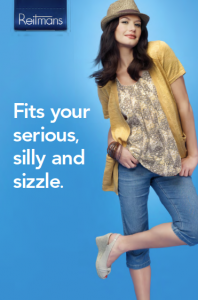 Geographic and OWN, among others, says Flavia D'Orazio, customer service manager, Media Experts, which did the media buy.
The campaign targets women 25 to 54, with a sweetspot of 35-years-old, Gill adds, and will run until June 3.
"We focused on specialty TV because we know we can reach her through her interests and habits," says D'Orazio. "We know our women are interested in food, fashion, home improvement and talk shows."
OOH will run across the country, with key focuses in Montreal, Toronto, Vancouver and Calgary, she adds, and will feature messaging such as "Fits your weekday, weekend and wow." Digital ads will live on fashion and home sites, and drive back to the online store, which launched a little less than a year ago.
This is Armand and Albert's sixth year as spokesmen for the brand, and as a result, the campaign has been able to dive deeper into the characters lives, says Gill. The duo have grown in popularity, with fan-made Facebook pages popping up, and their saying "Reitmans 1. Haute Couture 0." working its way into vernacular, he adds.
"It's the sixth year we're running the platform with the guys, and each year we try and reinvent them," says Gill. "They've really struck a chord with women.