New York Fries travels with consumers
The QSR dotted Toronto with outdoor ads and launched a nationwide radio campaign to entice mall-goers to try out its new poutine.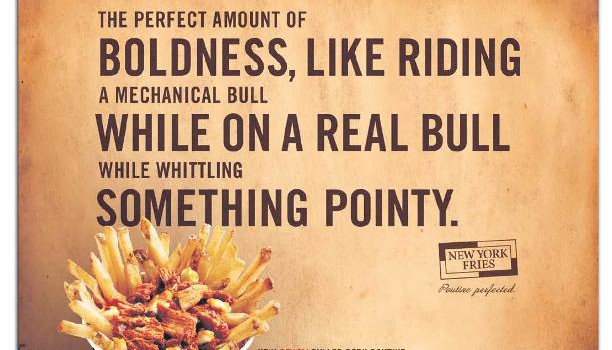 In an attempt to steer consumers to food courts to try out its new Pulled Pork Poutine, New York Fries recruited Media Experts to place Juniper Park-created wild postings and radio spots, targeting consumers while en route to malls.
This is the second chapter of the "Poutine Perfected" campaign. The initial flight last June was designed to introduce the QSR's first new products in over a decade – Braised Beef Poutine and Butter Chicken Poutine – and after receiving a spike in sales during the time of the campaign (+17.5%); the QSR felt a second launch was in order.
It's difficult to pinpoint one specific target for this campaign, Barry Quinn, ECD, Juniper Park, tells MiC, saying that the brand has its eye on both a younger demographic, making the quirky creative a good fit, as well as their parents who may have enjoyed the brand since their younger years.
The strategy is to catch consumers while making their way to malls, such as while driving in the car, he adds.
Kareem Boulos, director, account planning, Media Experts, tells MiC that the two radio spots, which describe the Pulled Pork Poutine in a western-themed way, were placed in 50 markets across Canada, excluding Quebec where the brand has a smaller footprint.
Instead, Quebec will see its malls, such as Les Promenade de L'Outaouais and Les Galeries De Hull, dotted with banners and food court tray liners, and in Toronto, wild postings have been placed to allure street commuters.
"It's about engineering the best possible delivery to get that message out to the audience, which is why radio and other non-traditional [media] rised to the surface," says Quinn.
"What is great about the campaign is that it has a very unique tone of voice," he adds. "It is not only entertaining to read or hear, but it also isn't doing what competitors are doing. We also noticed that a lot of competitors weren't in those [outdoor] arenas, so it really gave us a good chance to stand out."
Radio ads:
NYF_VillageLegend_J12RE086_R30E[1]