App-etite at C2-MTL: HuffPost launches app for the soul
At the Montreal creativity conference, Arianna Huffington announces an app to make you feel better.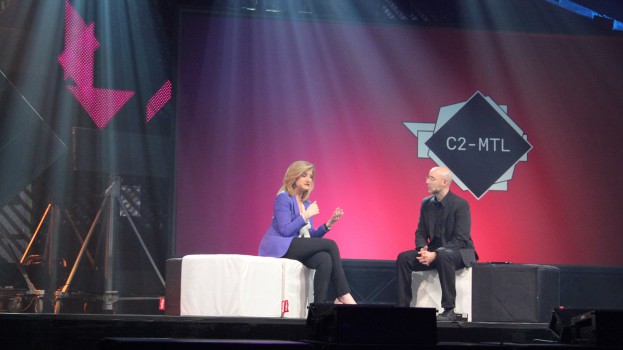 Yesterday at the C2-MTL conference in Montreal, which covers the intersection of commerce and creativity, Huffington Post founder Arianna Huffington announced a new venture. No, it's not another Huffpost regional offshoot, but rather a mobile app designed to help people find balance and calm in their lives.
Called "GPS for the Soul," the free app will launch in July and assist users in being "more productive, more creative and having more joy in their lives," explained Huffington.
The app was created with bLife, a company that develops apps centred around well being, led by ex-pat Canadian Paul Campbell.
Campbell took to the stage to explain how it works – it uses the iPhone's camera to take a person's heart rate, thereby determining their stress level. The user can then create a guide – or access another user's guide – which consists of music, text (such as poems or quotes) and images that create a feeling of calm.
Huffington shared photos of her daughters and a few of her favourite quotes on her own guide. She said she's been interested in well-being and creating something like this since she passed out from exhaustion and hit her head, requiring stitches.
The app will be free to users and will have one major sponsor, which is yet to be announced.
Huffington also spoke briefly about plans for Huffington Period – a magazine app that will curate some of the best content across the Huffpost site and aggregate it into a magazine-style format.
Graham Moysey, country manager, AOL Canada, tells MiC Huffington Period will launch within the next 60 days, adding that the new apps are part of AOL Canada's commitment to double-down in the mobile space on Canadian specific apps.
Photo: Arianna Huffington and Twist Image's Mitch Joel.