Spotted! KitchenAid hosts a pop-up picnic
The PINKnic was held on Tuesday night in support of the Canadian Breast Cancer Foundation.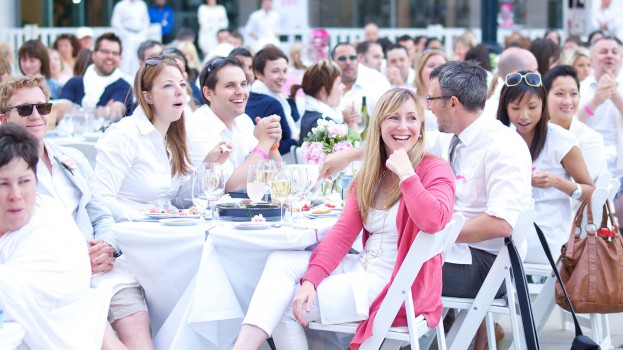 Over 400 hungry Torontonians gathered at David Pecaut Square on Tuesday night for the first annual PINKnic, an event hosted through a partnership between KitchenAid Canada and the Canadian Breast Cancer Foundation (CBCF).
Guests at the event, which is an extension of Cook for the Cure, a program which encourages Canadians to host dinner parties and make a donation to the CBCF in lieu of going out for a meal, brought picnic food to Tuesday's event and were told to dress in all white with a pop of pink to support the cause, according to a release. Party goers were told the date and time of the event, but didn't recieve the location until two hours before via text, just to keep them on their toes. To get an invite, Canadians needed to register at Cookforthecure.ca and donate to the cause before being sent an invite.
The idea for the "foodie flash mob" was developed by Harbinger PR, with KitchenAid's media company MediaCom Canada also getting involved by promoting the event in print ads with creative from Redlion, which ran in the Globe and Mail and Metro, Anthony Hello, director of content, MediaCom Canada, tells MiC.
KitchenAid spokesperson and chef Lynn Crawford hosted the event, which also helped to celebrate the launch of the Cook for the Cure program. A range of pink KitchenAid small appliances were available up for auction at the event to raise money for the cause.