Huffington Post sets launch date for HuffPost Live
The publisher is looking for a Canadian launch sponsor and inviting readers to submit video logs for the chance to be contributors on the site.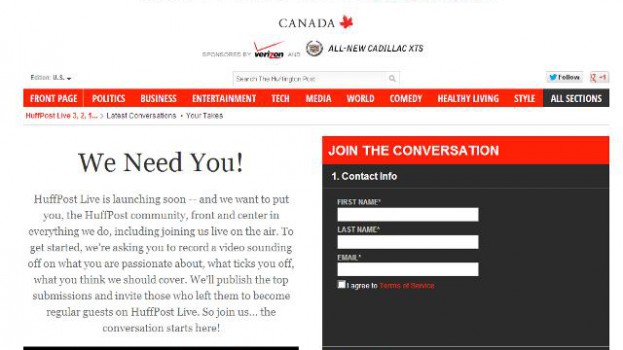 Huffington Post has announced that its new live streaming network, HuffPost Live, will officially ignite August 13 in Canada as well as the US. And in place of a traditional launch, the publisher has opened the space for its readers to share content ideas and audition themselves as the site's talent once it goes live.
US launch sponsors for HuffPost Live are Verizon and Cadillac, but the publisher has yet to confirm a Canadian sponsor. Brad Cressman, head of content, AOL Canada, tells MiC that HuffPost Canada is in conversation with advertisers and expects adventurous brands to be the first to come on board in the early stages of the site's launch. No word on what exactly is being offered in terms of ad opps, however Cressman says that "once we understand what the scale is and what those offers are, we'll have more details to share."
The short-term destination for the countdown to launch is called HuffPost Live 3,2,1… and calls for readers to video themselves ranting and raving about issues and topics of interest to them. The publisher will then sift through the video clips and feature the most engaging and passionate speakers on the temporary section. A selected few will be invited to contribute to live video discussions on the site after next month's launch date. HuffPost Live will showcase a 12 hour live stream of original content, from 10 a.m. to 10 p.m., primarily video-based.
Cressman explains that the intent is to get reader's creative juices flowing prior to the launch, so that when the full site initiates, there will be a bagful of people contributing as opposed to "turning on all the lights on day one and having it all build from there."
"At this point, we're targeting our existing HuffPost community," he says, commenting that HuffPost Canada's audience is highly engaged as seen from the 13,000 to 14,000 comments it averages each week. "They're familiar with our tone of voice already. I think we'll see a lot of adoption from our existing base, but then I think you'll start to see people come in from different areas who are more engaged in video offerings," adds Cressman.
"We decided to marry [community participation with video] to let the type of conversations we were seeing online go to a more live and interactive place and get the community even more involved than they would with the written word," he says.
Reciting numbers from comScore, Cressman notes that HuffPost Canada has seen triple growth since its launch last year when it saw 1.2 million visitors per month, and in May of this year the site received 3.4 million visitors.