Food Truck Eats awards pop-up vendors
The organization's event celebrating Toronto food trucks has added Now magazine, CFRB Newstalk 1010 and Wine Country Ontario as sponsors.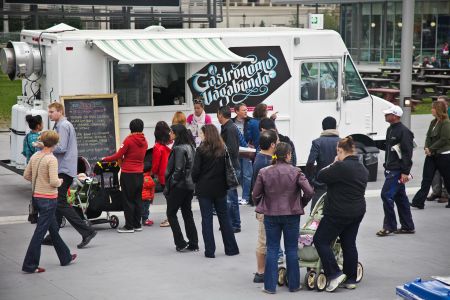 Food Truck Eats is an organization that runs food truck events in different locations across Ontario, and next month it will bring a range of different pop-up food vendors to the Evergreen Brick Works' Holcim Gallery to launch its first awards ceremony, AwesTRUCK 2012.
Now magazine recently announced that it has come on board as the event title sponsor. The Toronto publication will be arranging two smaller-scale pop-up events on the Friday and Saturday prior to the food bonanza on Sunday Sept. 9, and will be handing out copies of the publication at all three celebrations.
Frank Kocis, organizer, AwesTRUCK 2012, tells MiC the event was inspired by the burgeoning food truck movement in Toronto. "There was a lot of hard work being done locally in terms of getting gourmet food trucks off the ground despite resistance from city council, and we thought this would be a great way to reward the entrepreneurial spirit of the food trucks that are operating throughout southern Ontario," he says.
Other sponsors for the event include CFRB Newstalk 1010, a Toronto station that will broadcast live from the Holcim Gallery and discuss with city councillors the issue of having food vendors on the streets.
Wine Country Ontario is the official wine partner and will be selecting wines for menu items from each of the eight food finalists.
Kocis says there are still opportunities for other brands to get involved. He adds that the event is most likely to attact people aged 24 to 50.
Promotion will be done largely through the sponsors, with print ads in Now starting this week and interviews on CFRB during the event. Food Truck Eats is reaching out to consumers with a strong social media push on Facebook and Twitter, he says, adding that the foodie celebration is also planned to expand out to Vancouver and Montreal in 2013.