Spotted! The Co-operators create a scene
The insurance company is purposely crashing a car into windows of its 15 Quebec offices for a social media contest.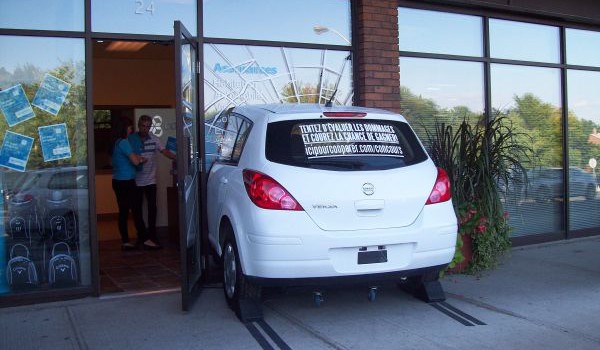 Quebecers passing by a Co-operators office this fall might be surprised to see a car jutting out of the front window. The stunt, executed by Vibrant Ideation & Marketing, is meant to raise awareness of its financial services and to communicate that, sometimes, unexpected accidents do happen.
Brand ambassadors with tablets will be on-site inviting pedestrians to guess how much the crash would cost to repair. Consumers who enter the "It Happened Near You" contest in-person or at home through the brand's Facebook page will receive a free insurance quote and a $10 gas card. The brand will also give three randomly selected Canadians a $10,000 grand prize and $100 gas cards to the 50 runner-ups.
The experiential stunt is a first for the company, Leonard Sharman, senior advisor, media relations, Co-operators, tells MiC. "The reason we're doing this in Quebec is [because] we have less brand recognition in the province, so we're trying something different," he says.
The car will make an appearance in 15 small Quebec communities and stay for two days in each town. The first window display was seen yesterday in Brossard and the brand's final stop will be on Oct. 13 in Quebec City. Radio ads, created and placed by Tam-Tam\TBWA, are airing on local stations to drum up awareness, adds Sharman.
The brand is investing more of its time online these days, having launched a second Facebook-housed contest last week, developed by The Wildfire Agency. The contest gives emerging Canadian co-operatives the chance to win up to $220,000 to help build their business. The co-ops are invited to create video pitches of why they deserve the winning funds, and Canadians are then invited to vote for the one they believe is the most deserving.