Tropicana uses gaming to give back
The brand has launched the "Tree of Giving" campaign with the placement of content in Facebook games, and is rewarding users for interacting with the ads.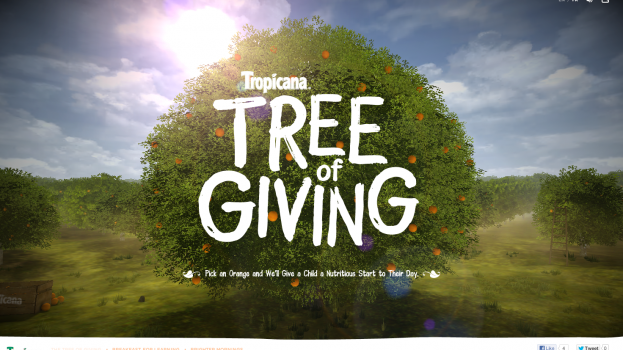 If you're one of the 53% of Facebook users who are avid gamers, you might have recently come across a virtual Tropicana tree with oranges ripe for the picking.
The "Tree of Giving" campaign has been seeded in games like Farmville and featured in banner ads in others like Tetris and Words with Friends. These are a few examples of the total 35 games that the brand has used to promote its new microsite, asking Canadians to pick oranges from the tree as well as for their personal details. For each fruit picking, a single 125 ml serving or Tropicana Pure Premium 100% juice will be donated to non-profit Breakfast for Learning.
To have the tree placed in games, either as virtual content or as mobile and desktop ads, the brand worked with Toronto-based Ngage Media, Neetu Godara, senior marketing manager, Tropicana Canada, tells MiC. Incentives are central to the campaign, she says, adding that for each ad click-through or interaction with a Tropicana logo or object inserted in the game, the user is rewarded with Facebook coins to use in the game they're playing.
"This is definitely our largest foray into a highly engaging, interactive digital program in many years," says Godara.
"[The gaming component] fits given that how our target [women aged 35 to 55] is spending their time online and there is a playful notion of going to a virtual orange grove and picking an orange," she adds. "We felt like it was a unique point of interruption where we could catch our consumer where they're in the mind frame of spending time with brands online."
In addition to the in-game advertising, Tropicana also worked with OMD to place traditional marketplace ads on Facebook, which began yesterday. Juniper Park was in charge of creating the "Tree of Giving" platform, which will be up for the next three weeks with a goal of  donating 300,000 orange juice servings.