Canadian National Exhibition gets back on top: Media Monitors
The event took the top spot on the radio chart in Toronto, while Desjardins General Insurance came in at #1 in Montreal for the week of Aug. 27 to Sept. 2, 2012.
The Canadian National Exhibition (CNE) made the biggest radio buy in Toronto for the week of Aug. 27 to Sept. 2, taking the #1 spot on the latest Media Monitors chart.
The exhibition event bumped Chrysler Dodge Jeep Ram Dealer Association out of the top spot to #2. Ontario Secondary School Teachers Federation entered the list at #3.
Bell High Speed Internet made a noteworthy purchase and jumped from #21 to #10.
In Montreal, Desjardins General Insurance made a larger than usual move and leapfrogged over the competition into #1, up from the previous week's #48.
Quebec Liberal Party shifted to #2 (up from #5), and Brault & Martineau edged one spot up into #3.
Newcomers were CTV, which made its debut at #5 and Directeur General Elections Quebec at #7.
Notable moves were seen from Gouvernement du Quebec which jumped from #36 to #8 and Federation CJA (from #26 to #9).
Toronto:
By brand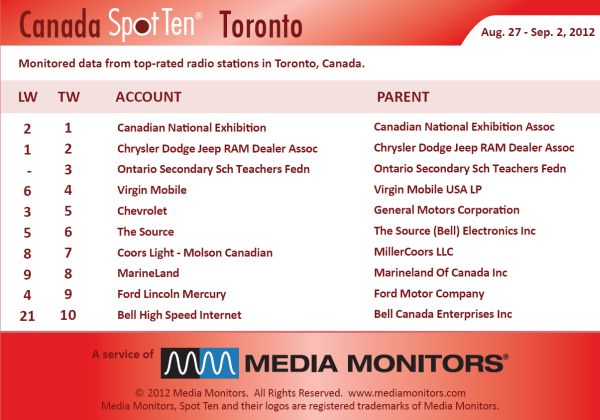 By category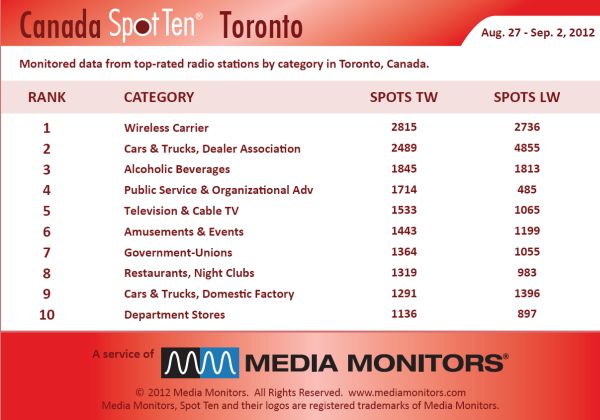 Montreal:
By brand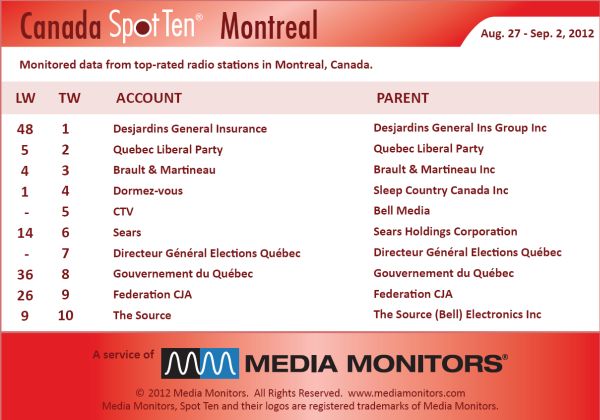 By category