How moms use tech: study
A report from Starcom MediaVest Group and Yahoo! shows how brands can help elevate daily routines and guide moms to be more receptive to using technology in the home.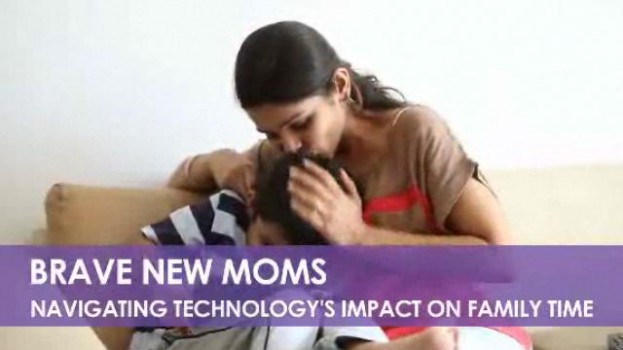 Moms seem to have conflicting opinions about technology – they embrace it because it enables them to bring their family together (71%) and at the same time, they resent it for pulling them apart (52%). This is one of the key takeaways from Starcom MediaVest Group and Yahoo!'s global study that had the companies "navigating technology's impact on family time" to discover a generation of "Brave New Moms."
The study was revealed to the Canadian media industry last week, followed by a discussion detailing how Canuck moms feel about using computers, tablets and smartphones during family time.
During the year-long research process, the companies found that mothers categorize family time to be part of four distinct activities: everyday routines such as cleaning up, doing the laundry and grocery shopping; less frequent rituals that bring the family together such as a themed movie night; even more sporadic traditions such as Thanksgiving; and lastly the growing (and new) trend to relive special moments through the use of technology (such as photos and video on a camera and computer).
Brands and publishers alike have typically taken an efficiency-based approach when speaking to moms, says Lauren Weinberg, VP, research and insights, Yahoo!. The thinking has always been to provide step-by-step instructions that will help them to complete "routine" tasks quickly so that they can spend time with their family, she adds.
"The conversation is changing," says Laura Krajecki, chief consumer officer, SMG. "It's not just about getting things done quickly and connecting with digital devices to do so. It's actually more differentiating for a brand to connect on the pauses that moms are trying to have, where there is that heightened consciousness."
Adam Kruse, VP, global director, SMG shared ways that a brand can leverage the four activities to create a more meaningful experience for moms. Instead of speeding up the practice of cooking a family meal, a brand can introduce ways of using tech to give it more meaning. Kruse used the example of Kraft creating the mobile app "Big Fork, Little Fork" to provide moms with a tool to teach their children how to, for instance, crack an egg. "They went beyond quick recipes, they infused it with content that brings the family together," he adds. "The idea is to help them elevate routines into rituals."
"For traditions, moms are willing to adapt and modernize them so they can attain them in a different way," he notes, using an example from Coke in China where the brand created the "First Coke of the Year" tradition where people could share happiness by gifting their loved ones with a "best wishes" neck tie around a Coke bottle during Chinese New Year celebrations. "Brands will leap on the one type of year (dragon, rabbit, etc.) and then the promotion ends," he says. "But Coke wanted to create a platform that would extend that and adapt the tradition and modernize it."
"Mom wants more meaningful family time and she's not quite sure how to get it," he adds. "We've seen examples of moms going in and doing it themselves, but they are also receptive to brands helping them."
Those in countries such as the US and Canada are less receptive to technology having a consistent presence in the home than moms in emerging markets, notes Krajecki. "In developing countries, there is less guilt in using technology and less of a barrier of having too much tech in the family," she adds. "Because there is more pride in their son or daughter figuring out how to use a smartphone. They're looking at it as a currency for children to compete in a global economy."
But Nick Drew, research director, Yahoo! Canada says that, particularly in Canada, the resistance to technology can at times be high. Canadian mothers are more traditional than their US counterparts, he says, adding that they prefer to spend time outside doing more tangible activities than playing games on a tablet or smartphone.
"In Canada there is a bit more reluctance and there is this feeling that additional tech makes life even more complicated and it gives them even less time with my family," adds Drew. "That gives [brands] a useful understanding to really connect with Canadian mothers and guide them by telling them that it's not about taking time away, but about adding to it."