Dole Canada takes a simple approach
The CPG brand is entering the granola bar market and promoting its new Live Right Bites product with a print and outdoor campaign featuring fruity creative.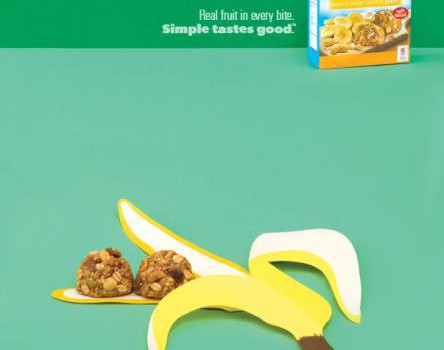 Dole Canada has kicked off a print and outdoor campaign to promote the launch of Live Right Bites, its new bite-sized granola and fruit snack bar.
The campaign, which is the CPG company's first under its new positioning "Simple tastes good" marks the brand's expansion into the granola and energy bar category. Peter Stewart, senior business development manager, Dole Canada, tells MiC that the product was developed in Canada and is launching here first, although there is the possibility of expanding into the US later on.
Toronto-based agency The Hive has been working with Dole to create and cover transit shelters in major Canadian cities such as Toronto, Ottawa, Winnipeg, Calgary and Edmonton in fruity creative, and has had colourful ads featuring uncomplicated images of fruit placed in female-focused publications such as Chatelaine, Canadian Living and Canadian House & Home since late August.
He explains that those magazines were chosen because they most effectively target women 25 to 34, the primary grocery shopper, adding that "the transit shelters were an option to broaden reach without going to the expense of television."
The idea behind the advertising is "the notion of simplicity and goodness from the ground up," says Trent Fulton, VP managing director, The Hive. "In whatever category, people aren't sure of what they're eating. Knowing for sure that there's real fruit in every bite helps people [recognize] the natural ingredients, which will separate [Live Right Bites] from a lot of bars out there."