York University looks to the future
The Toronto university is rolling out a new look across multiple platforms, as well as launching a social media contest with MuchMusic.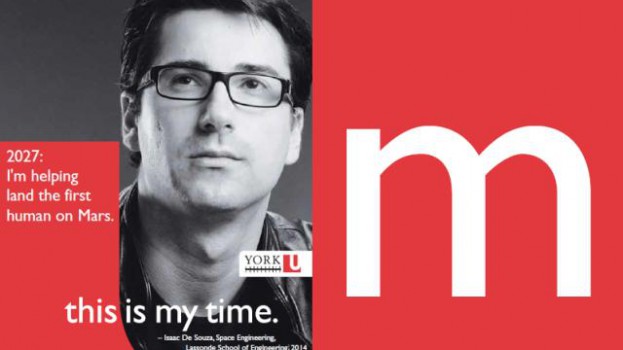 York University picked the week before the Ontario Universities' Fair in Toronto to announce its new branding, along with fresh creative placed in print and in cinemas as well as online and on buses.
"The primary time to be reaching out to high school students when they're thinking about where they might want to go next, is leading into the fair," Susan Webb, ED of communications and public affairs, York University, tells MiC, adding that this is the first time the university has actively gone out with a branded campaign in almost six years.
Gaggi Media planned and purchased the traditional and digital "This is my time" ads, which were developed by creative agency Doug & Serge in conjunction with York's communications and public affairs division.
Research and focus groups conducted prior to the launch of the new branding revealed that many Canadians aren't aware of what the 52-year-old university is all about, what departments it has and the programs it carries, says Webb. "For example, we asked if they knew that the Osgoode Law School, the oldest and largest common law school in Canada, is a part of York," she adds. "All of the strong gems that form a part of the university, they really just didn't know."
So to communicate its offerings, and demonstrate the future impact students can have on society, the university developed creative that shows testimonials from students (written in future tense) about what they were able to accomplish with a York degree under their belt.
"What really resonates is the whole notion of translating passion into action," she explains. "It's about the types of things that York is equipping them with so that they can realize those aspirations."
To further reach high school students, the university has also partnered with MuchMusic to lead and promote a Twitter contest that asks users to tweet their own #thisismytime moment for the chance to win a year of free tuition. The school is conducting a similar contest on-campus, and this enables it to extend it out to a broader audience over social media and through a brand that shares York's target demo, adds Webb.