Interac's new superheroes
The company introduces its new Flash cards, which make check-out faster, with an OOH, print and online campaign.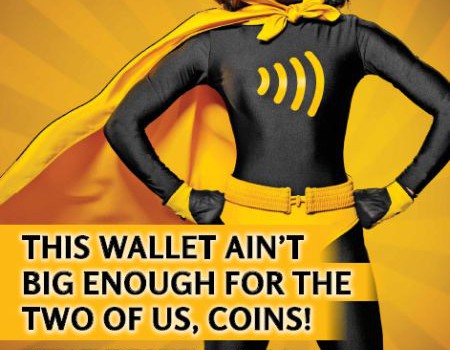 Interac is launching a new no-contact version of its debit card service called Interac Flash with an integrated campaign created by Toronto-based Fuse Marketing.
The campaign will live in OOH, print and online in all major Canadian markets starting Sept. 30 with Agency59 handling the media planning and buying. According to Fuse president Stephen Brown, the OOH component of the campaign features extensive transit poster buys and billboards with digital extensions. The experiential aspect is still being finalized but it will integrate with the other OOH creative. The first phase of the campaign will be in market for six weeks.
The insight for the campaign was around the idea of getting through retail lineups more quickly. Hence taglines such as, "Jump long lines in a single bound," which led to the concept of regular people becoming superheroes. Users simply swipe the card across an electronic pad at points of purchase rather than inserting it into a machine and entering a security number. The flash cards are limited to small purchases that often slow down lines.
"The insight really was, this is a way to save time for people," says Brown. "We said, let's own the line. And to do that in a fun way we threw the superheroes out there." He says the agency benefitted from Interac's strong brand footprint, in that it provided a foundation to do something "dynamic and unique."
"We targeted a bit of a younger crew that is used to using cards," says Brown. "We also went after the constant cash-and-change people, trying to get them to realize that this is faster than counting your pennies."
The new Interac Flash technology has been operational at select retailers in Canada since August and is continuously being rolled out across the country.