Simons goes West with interactive murals
The department store is expanding into Edmonton, the first market outside of its Quebec base, with an ad campaign that incorporates QR codes in the creative.
Quebec-based department store Simons has roots that date back to the 1840s. It may have steep history in the French region, but that's not the case in Edmonton where it plans to open up its first shop outside La Belle Province.
The big reveal of Simons' first English Canada location will take place at the West Edmonton Mall next Wednesday. And it's gearing up for its arrival with a pre-launch campaign that introduces the brand, followed by a second campaign that communicates its official entrance into the market. All creative was developed and placed by Cossette in Montreal, which is focusing on interactive and large-scale ads, says Josée Otis, media planner at Cossette.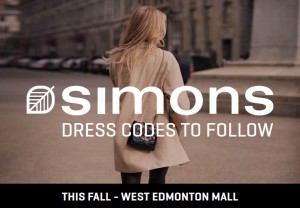 Media placement includes a mural lining walls in LRT stations within the city. The large-scale mural ads have a mosaic effect created with QR codes that make up the image of models in Simons' clothing, says Otis. When a person scans one of the codes, they are immediately taken to a microsite that showcases the clothing lines from a variety of brands that the retailer carries. To further incentivize people to scan the wall codes, Simons is also offering them the chance to win a $50 gift voucher to spend at the new store.
"There are multiple designers, and [so the campaign] needed multiple executions to show off the different products," she adds, explaining that the mural is one of many OOH executions (including superboards, vertical billboards and larger bus shelter ads) that will make consumers aware of the brand's arrival in the market. There is also an online component as well as print ads placed in Avenue Edmonton magazine and various newspapers, and wraps in the Edmonton Journal and Metro. In the case of the print executions, the goal is to explain in detail what Simons is about, and introduce some of the different brands.
"We have to put the emphasis on the brand in the creative and make sure it's clear that Simons is a great Canadian fashion leader that's [entering] the market," adds Louis Duchesne, vice-president and account leader, Cossette, noting that targeting for the campaign is broad, but that the incorporation of the interactive two-dimensional codes in the advertising is meant to hit a younger target of around 18- to 30-year-olds. "For most of the audience, this is their first contact with the brand. The various media placements have impact and they're strongly signed by Simons. And [the creative] makes it clear that a new brand is in the market."