Spotted! Spiderman buys big
Sony Home Entertainment has launched an OOH campaign aimed at reaching mass audiences for its biggest Blu-ray DVD release of 2012.
Sony Home Entertainment is buying big for the Blu-ray DVD release of The Amazing Spiderman with an OOH, transit and print campaign that launched last week.
With media by UM and creative done in-house at the studio, the campaign is larger than the company would normally go for a Blu-ray DVD release because of the importance and popularity of the Spiderman franchise, Holly Martin, manager of communications strategies at UM, tells MiC.
"Usually home entertainment releases don't have big budgets, it is usually all reserved for the theatrical release with the DVD/Blu-Ray release being relegated to promoting with retailers," says Martin. "And now that there aren't many places to rent movie titles it is even more difficult for  consumers to know when these titles are coming out."
OOH elements of the campaign, which began rolling out last week, include a four-corner takeover of the Richmond and Spadina St. intersection in Toronto with a spider web-like connection between the two south-east billboard faces, says Martin. A secondary placement is at the Skywalk, which runs between Toronto's Union Station and Rogers Centre. The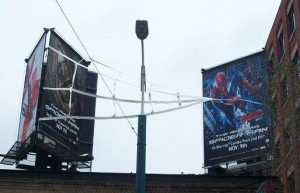 campaign has renamed the commuter tunnel the "Spider-Walk" in time for the Grey Cup which is happening on Sunday Nov. 25. The Spadina-Richmond ads were place with Astral OOH and the Skywalk ad was done in conjunction with Pumped!, and both run until the end of November.
In addition to the OOH spots, there are both 3D and regular transit posters promoting the release running at key TTC stations in the city, including Bloor, says Martin.  There was also a seven-page spread in last Friday's issue of 24 Hours to coincide with the launch.