Shining a light on eating disorders
Anorexia and Bulimia Quebec has teamed with Astral Out-of-Home and Cossette on a campaign that uses street columns in downtown Montreal.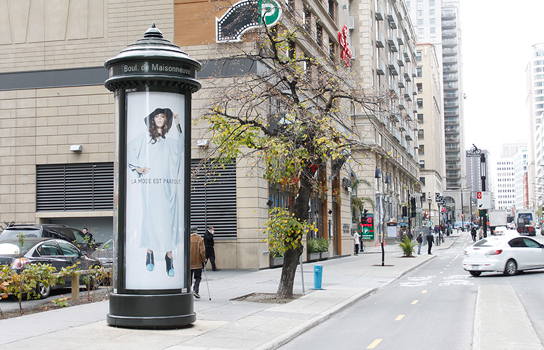 Anorexia and Bulimia Quebec recently launched a new campaign that aims to start a discussion about the debilitating eating disorders, while drawing attention to the non-profit organization's cause.
The OOH-exclusive campaign, with creative by Cossette Quebec, uses street columns with free ad space donated by Astral Out-of-Home.
During the day, the posters, which are exclusive to the downtown core of Montreal, appear to be normal fashion-related spots. They feature a model in a roomy dress and the slogan "La mode est partout" (fashion is everywhere).
At night, however, lights in the back of the street columns come on, creating a silhouette effect that highlights the model's unhealthy figure and the additional slogan "L'anorexie aussi" (anorexia too).
Steve Blanchet, creative director, Cossette Quebec, tells MiC that the ads are targeted at adults and the media. He adds that their aim isn't to tell people what to eat, but to shed more light on the eating disorders, which aren't regularly talked about in the public eye.
The campaign began at the start of November and will run until Christmas.