Scene targets mobile gamers with Kiip
The entertainment loyalty program is handing out free movies by partnering with the in-game rewards company.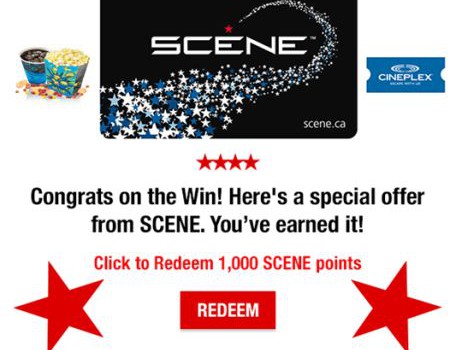 Scene, the movie rewards program that is a partnership between Scotiabank and Cineplex Entertainment has launched a partnership with Kiip, a company that gives out real life rewards for achievements on virtual apps.
The partnership with Scene is the first Canadian deal for Kiip, and came together when Katherine Dimopoulos, head of marketing and brand experience, Scene LP, met Brian Wong, CEO and founder of Kiip, at a conference earlier this year.
The concept behind the partnership, which aims to reach Scene's target demographic of Canadians aged 18 to 34, is that people are gifted with 1,000 Scene points (enough for a free movie) when they unlock an achievement on one of the about 600 game apps in Kiip's network of apps.
While Kiip doesn't disclose the exact apps it works with because Wong says it changes the dynamic from play to seeking out rewards, Dimopoulos tells MiC they are working with some of the most popular titles in the market. She says the program allows Scene to dig deeper into the mobile space, which is the third most powerful platform for the company, seeing 600,000 of its members add their membership details to their mobile devices this year.
"Moments of achievement in casual game play are moments of happiness," she says. "They are an opportunity to engage one on one with either an existing or a new member. It is a very simplistic sort of experience and in that we are reinforcing the idea that Scene members get more and so can these gamers."