Chatelaine and Flare relaunch online
The Rogers Media publications are focusing on larger ad units with a new design that tailors itself to four specific device sizes.
Rogers Media has relaunched the sites for Chatelaine and Flare, focusing on larger ad sizes in a new design that detects what kind of screen the user is viewing the site on (desktop, seven-inch tablet, 10-inch tablet or smartphone) and adjusts the design accordingly.
Ryan Trotman, senior director and publisher, Rogers Digital Media, tells MiC plans for the new design of the sites, which will be rolling out onto additional titles from the media co such as Canadian Business in the near future, began at the start of this year.
"Historically publishers have been building apps that are specific to one device and they have been a fraction of what their main site was, and traditionally they have been developing for a smaller audience so it tends to get forgotten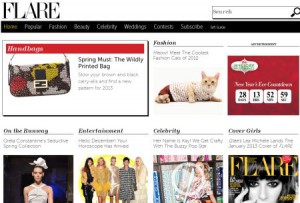 about," he says. "We started moving away from that about a year ago with a plan on how to build our website off one code base and optimize it on as many screens as possible."
Content on the new sites is presented in "content modules" with ads focusing on big box units that are better integrated and don't need to be pushed off to the tops or sides of the screen, says Trotman. In addition, he says the new sites will be implementing both IAB Rising Star ad units and full-page interstitial ads which are inserted between web pages.
"In print we have big full-page or double-page spread ads, which are very engaging, and we have started integrating those into our iPad apps, but the web has never had an equivalent," he says. "So with the new site design we are introducing full-page interstitials, which are an in-between page experience as opposed to something that goes on top of the content."
Prior to the redesign, Chatelaine.com got 404,000 unique visitors in October, with Flare.com receiving 21,000 unique visitors for the same month, according to comScore numbers provided by Rogers Media.