Microsoft releases first NUad results
Joe Strolz, VP, Microsoft Advertising, tells MiC about the first wave of results on the Xbox platform.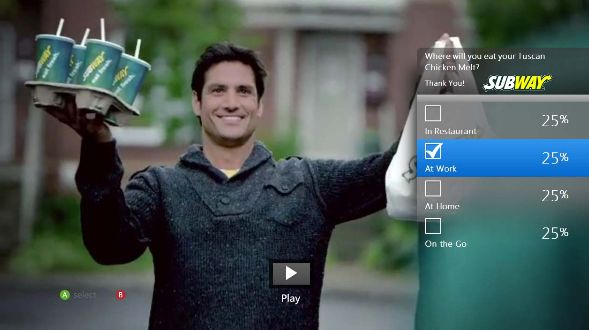 Microsoft Advertising has released the first wave of results from its Xbox Live NUads platform, which launched last fall in Canada, the US and United Kingdom, and allows viewers at home to interact with content.
Subway Canada and Toyota were amongst the first in Canada on the platform, launching ads which incorporated a poll with a 30-second spot. The preliminary results saw 37% of viewers engaging with the spots when prompted with the option to vote, Joe Strolz, VP at Microsoft Advertising, tells MiC.
The brand launched NUads with the interactive polling spots because consumers understand the value exchange and it offers the ability to create real-time focus groups, Sean Alexander, director of product management, Xbox Live Advertising, told MiC at a media preview of NUads last year.
"We have seen the users on the Xbox platform grow by 30% globally in the past year," says Strolz. "And users are spending twice as much time year over year engaging in video content on the console over what they did historically. Non-gaming use of the console continues to grow as people see it less as a gaming platform and more of a set-top box."
Strolz says Microsoft Advertising is adding more clients to the platform in the coming months, noting that the company is seeking "partners looking to innovate and push the boundaries" to place ads on Xbox Live.