Target announces brand partners for Canadian launch
The retail giant announced a collaboration with Roots, as well as plans to bring its lines from Nate Berkus, Sonia Kashuk and Giada De Laurentiis to Canada.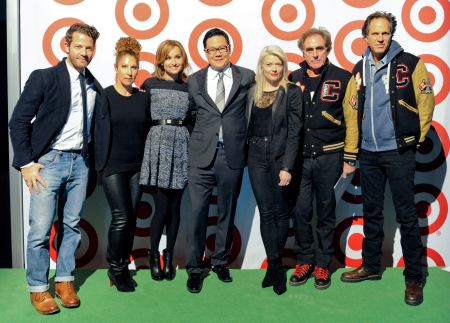 At an event at Toronto's Brickworks last night, Target revealed which of its private brands and exclusive collections it would bring to Canadian stores when it opens its doors in March, including Archer Farms and Market Pantry on the grocery side, and Up and Up, which spans the likes of household products and personal care.
Up and Up, with its minimalist packaging and pops of colour, poses the most direct challenge to existing Canadian private label lines, including the Loblaw behemoth, President's Choice. Archer Farms is a premiere grocery line – similar to Loblaw's Black Label – while Market Pantry is the low-cost grocery alternative, similar to Sobeys' Compliments or Loblaw's No Name.
"Private label and private brands are used interchangeably, but they're very different," says John Torella, senior partner at retail consultancy firm, J.C.Williams Group. "Private brands have an emotional connection, a unique personality, a propensity to gain loyalty. Not all private labels are brands. Target recognizes that, so they have made the investment in product uniqueness, presentation and marketing to support the development of brands versus labels."
While the first batch of creative, which at press time hasn't been announced, will focus on the grand opening, subsequent creative will probably focus on the product category side, says Lisa Gibson, public relations, Target, introducing the retailer's offerings to Canadians who might not be familiar with its product selection.
Target also unveiled the Nate Berkus home collection, Sonia Kashuk make-up line and Giada De Laurentiis cookware and cookbook line, all of which run exclusively in the retailer's US locations.
The discount retailer, with a reputation for trendy lines and designer collaborations, will also kick things off in Canada with a Roots line of sweats as a limited-time offer between March and June. "The team at Target has been spending a lot of time travelling across the country talking to people, and [we] really wanted to make sure that when we launched we had a product that was unique to Canada and resonated well," says Gibson. "With Roots, we thought this was just a really great brand and speaks to the iconic nature of Canada."
It has also paired up with New York-based designer Kate Young for its first short-term designer retail collection. Young has clothed the likes of Natalie Portman and Michelle Williams. Her exclusive collection bows in April.
Torella warns that one of the challenges Target could face would be over-emphasis on its fashion and apparel lines and neglecting the household private labels it carries, which could alienate some of the cost-conscious shoppers. "But I think they're smart enough to know that they have to have both," he says.
Photo (left to right): Nate Berkus, Sonia Kashuk, Giada De Laurentiis, John Morioka, senior VP, merchandising, Target Canada, Kate Young and Roots co-founders Michael Budman and Don Green.