Danone relaunches Silhouette
The yogurt brand is targeting women with a new look and positive tone, as well as launching a new Greek line.
Danone Canada is relaunching its Silhouette yogurt line with a TV-heavy campaign featuring new brand packaging and messaging.
Catherine Fortier, marketing director, Danone, tells MiC that the changes will be broadcast with new spots around the tagline "Nourish Your Happiness" created with input (and participation) from consumers designed to help people think about the product as healthy, not just as a diet brand.
"We are using TV with the relaunch campaign because we want to reach the most consumers at once," she says. The campaign is built with the consumers in the ads, they will see it and recognize themselves."
Targeting women aged 35 and older, with media by Havas, creative by Y&R, PR by Enzyme Communications and the new packaging designed by Pigeon, the new spots aim to focus on the balance and health benefits this demographic wants to gain from eating well, rather than weight loss.
"Silhouette is playing in a space called weight management, helping women manage their weight and it is a brand that has been in Canada for 37 years," says Fortier. "Women have changed the way they look at weight management and we wanted to follow the same trend."
"One key change is that when women aren't satisfied with their weight they tend to speak negatively to themselves and we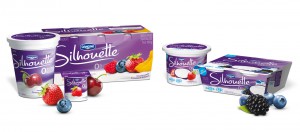 found that speaking more positively really makes a big change in the way you perceive yourself. That is the way the communication is going to take the message to consumers starting in mid-February."
Already a player on the Greek yogurt side with Oikos, Danone is also introducing a new high-protein Greek SKU to its Silhouette line, says Fortier.
The TV spots will air nationally on conventional and specialty channels, with the first wave ending in April.