Consumers are co-creating with brands: study
The new Ipsos OTX infographic shows that 35% of consumers are using social media to share and interact with brands.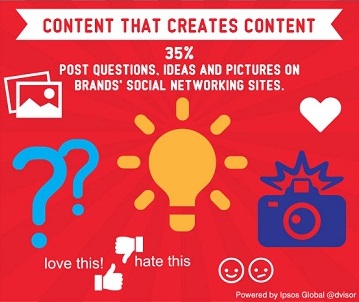 Ipsos OTX has released the latest infographic in a series on the social media habits of consumers when it comes to brands.
While the first study showed that nearly half of consumers regularly check brands' social media pages, the new infographic suggests that many consumers take this relationship further, with 35% saying they interact with brands through their social media pages, whether by sharing content, such as photos or videos, or simply by posting comments or asking questions. Canadian consumers fell slightly below the average, with only 21% saying they've interacted with brands through social media.
Meanwhile, India and Indonesia were found to be the most social media-engaged countries, with 66% and 70% of consumers, respectively, saying they interact with brands. Japan ranked lowest, with only 12% saying they use social media to share content with brands.
"Brands need to listen to and engage in conversations with consumers. Consumers are clearly showing an interest in expressing their ideas, sharing pictures and asking questions. This is information brands could be using for content in their next campaigns," Janis Gilman, global marketing director, Ipsos OTX, tells MiC.
She adds that, as many brands have started to do, they can solicit consumer content by hosting contests or giveaways, directly asking their followers for input on brand decisions, such as the next flavour for a food brand, or finding ways to personalize the brand experience.
"Brands need to think of their customers as friends. It means asking for their involvement and giving them a reason to keep coming back. If you're only going to post once a week or once a day, they're not going to come back," she says.
She cautions that brands also need to be sure they aren't spamming their followers with too many posts or sending the wrong message.
"Brands have to be careful. They should be posting, but they have to think about what they're posting. They want to have a personality, but they don't want to turn people off. They want consumers to be proud to be part of them," she explains.