Hawaiian Punch launches new format in Canada
Canada Dry Mott's is bringing new flavours and a different bottle size of the tween- and teen-targeted drink to Canada this year.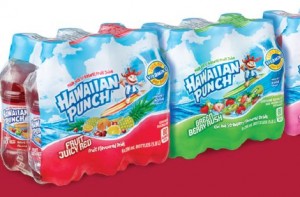 Canada Dry Mott's is bringing a new format and flavours of Hawaiian Punch to Canada this winter.
Primarily targeted at tweens and teens with a secondary target of moms, the new flavours, Fruity Juicy Red, Green Berry Rush and Lemon Berry Squeeze, will be launched with a TV campaign with media by Mindshare and creative from Dentsu Bos starting in March. A shopper marketing component will run from June to September with work from the InField Marketing Group. The drink is also launching in a smaller single serve 296 ml bottle, making it more portable then its previous larger bottle size.
Jonathan Yeh, manager of brand marketing, Canada Dry Mott's, says while he can't share much on the creative side yet, the campaign will focus on Hawaiian Punch's fruity flavours and features like the drink having 100% of the daily required vitamin C.
"We are launching the drink in Canada now because we feel there is a void in the juice category with the pouches and Tetra Boxes that are targeted at tweens and teens," he says. "We think Hawaiian Punch's 296 ml size and low calorie count will fit that need."