MapQuest gets social about travel
The AOL-owned site has launched MapQuest Discover, a social platform that will offer brands traditional display and content integration opportunities.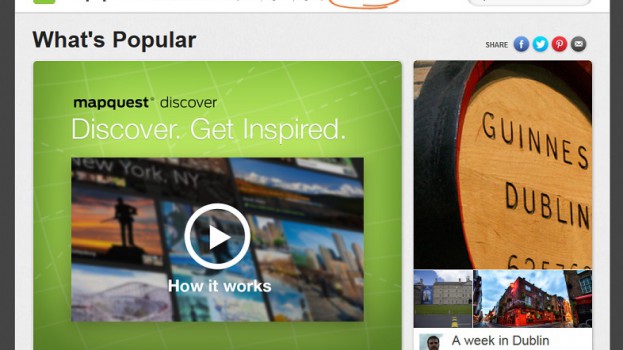 AOL Canada is making travelling a more shareable experience with the launch of MapQuest Discover, a new social media platform.
Targeted at adults over the age of 18, MapQuest Discover, which launched in the US in November 2012, allows users to create passports (profiles), and upload collections of images and information from their most recent trips. The AOL Canada team is curating its own editorial content for the Canadian platform, which is the first international edition to launch.
MapQuest Discover will allow users to share their content via Facebook, Twitter and Pinterest. Additionally, users will be able to follow each other and like each other's posts, with the most liked content being featured on the site's homepage alongside localized content.
The platform was launched in collaboration with Chevrolet, which will be an exclusive advertising partner for the first four months on the Canadian version of the site. MapQuest Discover will offer advertisers traditional display ad opportunities, as well as custom content integration packages, including sponsored collections.
Paul Cramp, general manager, male audience products, AOL Canada, tells MiC that MapQuest Discover would be a good fit for automotive brands, as well as credit cards, travel companies and lifestyle brands.
He adds that MapQuest Discover is one of many upcoming products for Mapquest that are designed to revitalize the brand and help it expand to reach a younger, more web-savvy audience in Canada.
Cramp says the platform will launch on mobile later this year.
MapQuest had 1.4 million unique monthly Canadian visitors in February, according to comScore data provided by AOL Canada.