Amway Canada goes all in with digital
The health and beauty company, which typically spends its ad dollars in broadcast, is launching an eight-month sponsorship of MSN's lifestyle channels.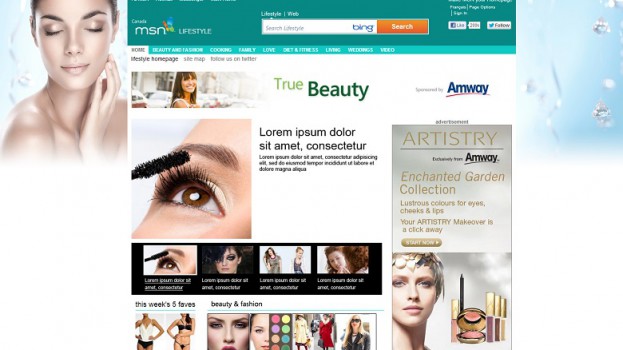 Amway Canada, a direct-selling company the carries health and beauty brands like Nutrilite and Artistry, has partnered with Microsoft Advertising to kick off its latest campaign.
Targeting adults aged 18 to 54, with a core demo of 25 to 35, the campaign features media by PHD, creative assets provided by Amway and additional editorial and creative from Microsoft Advertising.
The campaign will see Amway sponsor MSN.ca's lifestyle channels for the next eight months. Beyond traditional display and video advertising, Amway will wrap its brands and products around MSN's editorial content. MSN will also create custom content related to seasons or special occasions, like back to school or preparing the home for winter, that will tie in Amway brands and product information.
Additionally, Amway will leverage Skype's advertising platform, running takeovers that coincide with upcoming seasonal product launches.
Andrew Young, digital media coordinator, PHD, tells MiC that this is the first all-digital campaign that Amway has run in Canada, noting that the company has typically invested most of its media dollars in broadcast. He adds that an eight-month digital buy was seen as a more effective strategy because it allows Amway to broaden its reach and frequency, while directly connecting consumers with its e-commerce portal, which is a key aspect of its business.
Beyond this, he says the campaign is different for Amway because it allows it to wrap itself around both owned and earned media, creating a more immersive content experience for consumers that goes beyond traditional banners or TV commercials.
"Because we're not on store shelves, we're not top of mind when people are making purchasing decisions. This campaign allows us to be with consumers when they're online making purchasing decision and to present our brand as an alternative," Angela Abdallah, national marketing manager, Amway Canada Corporation, says of the insight that drove the campaign.
The campaign will run until the end of 2013.