Tourism Victoria calls potential visitors
The tourism board has launched an experiential campaign that uses tablets in touring phone booths to offer consumers a look at what the city has to offer.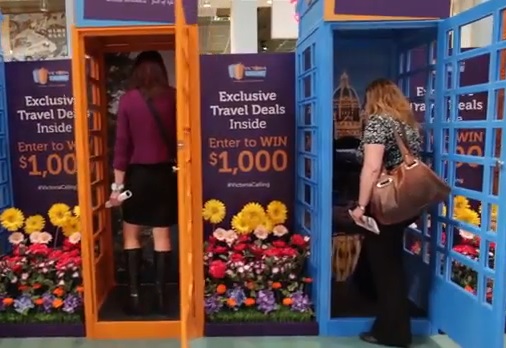 Tourism Victoria is calling consumers with its latest campaign, which aims to change perceptions that the British Columbia city is stuck in the past.
With media by Victoria-based firms Eclipse Media and Treehouse Media and experiential led by Inventa, the campaign targets adults aged 35 to 55 with a slight female skew. It relies primarily on a touring execution that includes the installation of four English-style phone booths, which have tablets inside, at malls and airports.
When they enter the booths, consumers can choose one of four experiences they'd like to learn more about, whether it's afternoon tea at the Fairmont Empress (a 100-year-old tradition), an ocean adventure, a west coast hike or a taste of the night life. Following a video, consumers are prompted to enter their contact details and live one of the experiences for real.
Those who enter their details are entered into a contest for $1,000 and given access to special travel rates, while consumers who book through the campaign get a $100 voucher and access to special hotel rates.
Additionally, the tablets, which are currently in Calgary, and will also visit Edmonton, Vancouver and Seattle, will randomly ring throughout the day and consumers who answer the calls will instantly win a two-night trip or a prepaid American Express card.
The campaign is also supported by a radio spots on Virgin Radio in Calgary and Cool FM in Edmonton.
Trina Mousseau, director, destination marketing, Tourism Victoria, tells MiC that the phone booths are a contemporary play on the city's English heritage.
The campaign will run through July.