Oreo gives fans the One Direction treatment
The brand is the title sponsor of the boy band's upcoming Canadian tour and is offering fans VIP tickets to its shows through an online contest.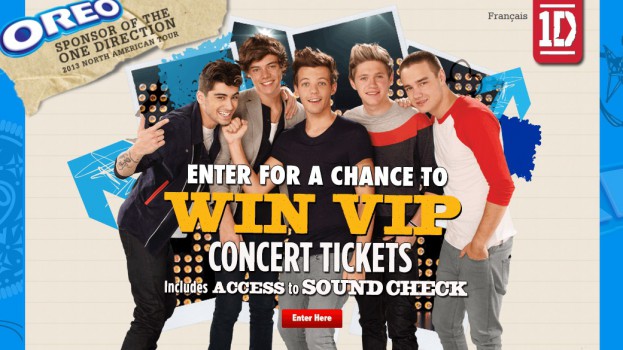 Oreo is targeting One Direction fans this summer, as title sponsor of the boy band's upcoming Canadian tour.
To support the tour, the Mondelēz brand has launched an online contest, offering fans the opportunity to win VIP tickets, including access to soundcheck, to one of the four shows when they enter online at 1DVIP.ca. Twenty prizes are available, five each for the July 4 show in Montreal, the July 9 and 10 concerts in Toronto and the July 27 show in Vancouver.
The contest site will also host exclusive content, including photos, videos and news updates from One Direction and Oreo, and Oreo is promoting the contest in-store with One Direction-themed packaging and merchandise units.
Melissa Grant, senior brand manager, Oreo, Mondelēz Canada, tells MiC  that partnering with One Direction offered the brand a chance to leverage the band's popularity and relevance to target and engage with a younger demographic, while still reaching its broader family audience.
The contest closes July 7, with draws for the first three shows being held June 10, and for the last show on July 8.