Ron Close replaces Pierre Morrissette as Pelmorex Media CEO
The Weather Network parent company announced Wednesday that founder Morrissette will remain executive chairman of the board.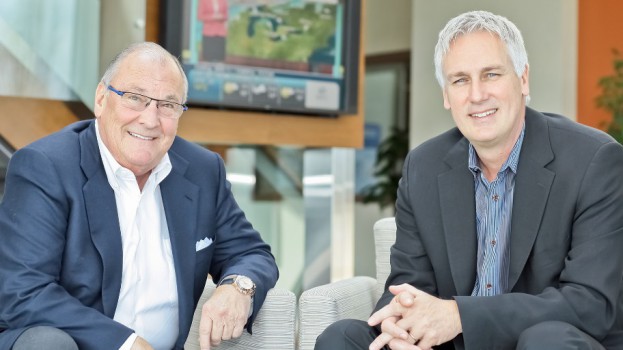 Ron Close has been named president and CEO of Pelmorex Media, the parent company of The Weather Network and MétéoMédia, replacing chairman and CEO Pierre Morrissette (Morrissette and Close pictured).
Morrissette, the company's controlling shareholder, founded the company in 1989. He will continue as executive chairman of the board, Pelmorex, which also operates Travelers Network, Beat The Traffic and eltiempo.es, announced Wednesday.
Morrissette said in a statement: "I have been planning a transition to a new CEO for over five years. This is one of the most important decisions faced by a founder. Over two years ago I invited Ron to work closely with management and the board as a strategic advisor. So we have had a great chance to get to know each other well. When I learned last year that Ron was available, we both quickly concluded this was a great fit."
Among other career highlights, Close was formerly president of Bell New Ventures and co-founder/CEO of Netcom Canada.
Morrissette added that Pelmorex's properties "connect with more than 20 million Canadians every month across all screens."
The company expanded internationally last year by acquiring eltiempo.es, a Spanish multi-platform weather-related information service, and Beat The Traffic, based in Santa Clara, Calif.
Pelmorex employs close to 500 people in Canada, the U.S. and Spain.
From Playback Daily