Chatelaine celebrates 85 years
The Rogers Media magazine's publisher tells MiC about plans to mark the milestone, including a radio presence coming soon.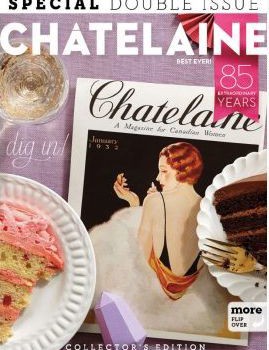 Rogers Media's Chatelaine magazine is celebrating 85 years in business this year, kicking off its "85 Extraordinary Moments" campaign with the publication's June issue, which has 252 total pages with 170 pages of ads.
Tara Tucker, publisher at Chatelaine, tells MiC the issue features a series of four celebratory cake covers on one side of the book and four vintage covers on the flip side, all sponsored by Coty.
In addition, the magazine utilized its partnership with fellow Rogers Media brand Cityline to celebrate with a special episode on the TV show last week, where each member of the audience was showered with sponsored gifts from Porter Airlines, Roots, Right Hand Gal and Royal Doulton.
Tucker says the magazine is also using its anniversary year to expand to another Rogers Media platform, with plans in place to add a weekly radio show in the near future. Details on that launch are still confidential, she adds.
Chatelaine's anniversary will continue through the summer with prizes to be won in print and online, and will culminate this fall with a gala featuring prizing where some readers might require their passports, says Tucker.