Canada in Cannes: Extreme listening with Swim
Nancy Vonk talks about her consultancy's workshop at the Cannes Festival of Creativity next month, and reveals one listening secret.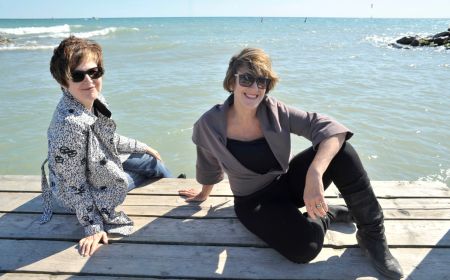 People worldwide are getting lots of Canadian knowledge this year at the Cannes Lions International Festival of Creativity, with presentations from McDonald's and DDB Canada, Cirque du Soleil and Sid Lee and Janet Kestin and Nancy Vonk from Swim all sharing their knowledge at the Palais in June.
In part one of our Canada in Cannes preview, MiC talks with Nancy Vonk, co-founder of Swim who, together with co-founder Janet Kestin is presenting "Extreme Listening," a workshop on how improving a basic daily skill can have a big impact on your business results.
What can people expect from your workshop in Cannes?
Vonk: We will reveal that everyone in the room is a poor listener no matter how good they think they are and we are going to give them the tools to recognize what it looks like to flip that around and become a great listener, and tell them why they should give a shit about that.
Listening is a key part of our Swim leadership training and it's something that was a bit of a revelation to both Janet and I when we started designing the curriculum. In consulting with many smart and clever people we discovered that bad listening skills are directly connected to bad relationships with clients, bad work happening, losing people and losing accounts.
We are going to shine a light on that fact, [as well as] the price people can pay for being poor listeners, and we are going to show them a different way and how they can be better listeners and a different way to work. They are going to come out with very different ideas on what a meeting should look like and practices they can put in place right away that create fertile conditions for good listening. The topic of listening isn't something we might have ever intuitively thought about before we started Swim, but it has proven to be one of the most important pieces of our training and the results we have seen are so dramatic. Anyone who wants to do better work consistently should come to this.
What is one thing people can do to become better listeners today?
Vonk: You have to come to the workshop for the instructive process on how to turn things around, but one thing is to make phone meetings replicate in-person meetings. If you can't entirely get rid of phone meetings you need to change how they are done, because they are the worst kind of meeting you can have, the biggest time waster and the worst-case scenario listening environment. The lack of visuals is a massive problem.
Listening sounds so quiet and non-exciting, but it is one of the most popular pieces of our curriculum. It's one of the things that people talk the most about that makes a big difference in their relationships and business outcomes.
When you're not presenting, what is your favourite thing about the festival in Cannes?
Vonk: The chance to see amazing people. There are greats there from all over the world and you have the chance to talk to them, get to know people that you idolize.