Spotted! Sporting Life's mural for the Ride
The retailer is using the side of its store to illustrate (literally) its sponsorship of the Ride to Conquer Cancer.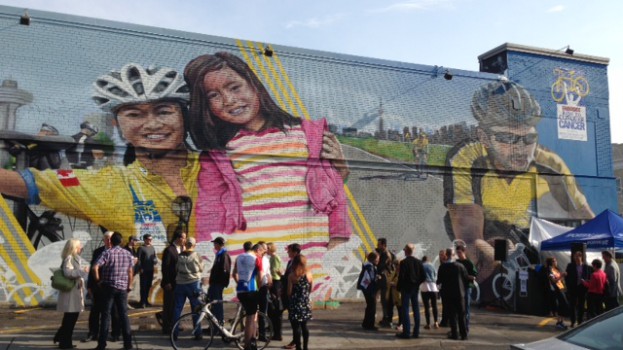 Sporting goods retailer Sporting Life is showing its support for the Enbridge Ride to Conquer Cancer in a big way.
Yesterday morning it unveiled a huge mural dedicated to the event, covering the entire south-facing side of its Bikes and Boards store near Yonge and Eglinton in Toronto.
The mural, which was created with help from Naked Creative, took 200 hours to complete, and used up to 300 cans of spray paint. It features real-life participants of the Ride, which is a two-day, 200 km journey in support of the Princess Margaret Hospital Foundation (PMHF).
At yesterday's big reveal, John Roe, director of marketing and advertising at Sporting Life, told MiC that the mural is the piece de resistance of its first-time involvement as the event's official retail partner.
"We have a million people a week that are going to be able to see our affiliation with the Ride," he says. "It's a lot of square footage to be able to give to an outdoor billboard that speaks volumes about what the Ride to Conquer Cancer is all about."
Sporting Life's sponsorship also includes discounts to Ride participants and on-site bike technicians the days of the Ride, and is being communicated to customers through flyers, emails and in-store.
Also speaking at the event were Paul Alofs, president and CEO of the PMHF; Paul Green, director of public and government affairs at Enbridge (the Ride's title sponsor); Dr. Caroline Chung, radiation oncologist at the Princess Margaret; and Ride participant and cancer survivor Russell Willer.