Zoomer Media launches Everythingzoomer
The company has consolidated its online properties into a single content hub that will also be optimized for mobile.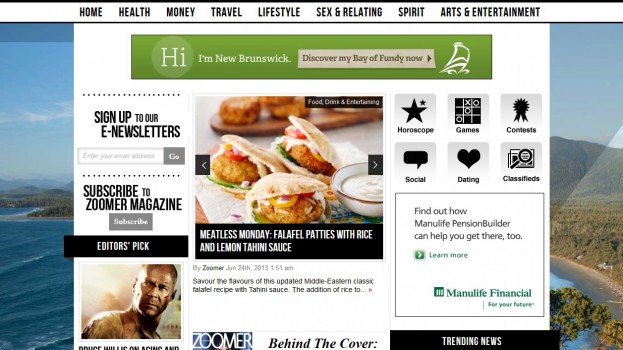 Zoomer Media recently announced that it has consolidated its network of websites for adults above the age of 45 into a single site, Everythingzoomer.com.
The new site, which takes the place of existing properties like Zoomermag.com, will offer a mix of entertainment, news, travel and lifestyle content.
For advertisers, the site will offer standard display units, rich media display and video opportunities, and will be fully optimized for mobile, offering mobile display units.
Mclean Greaves, VP of digital, Zoomer Media, tells MiC that there has been a lack of players targeting the above 45 demographic in the digital space in the past few years, creating a void for Zoomer to fill.
He says that adults above the age of 45 drive traffic all over the internet, noting the move to consolidate Zoomer's properties into a single site allows Zoomer to provide consumers with more content on a more consistent basis, and makes its content more accessible on both desktop and mobile devices.
According to Print Measurement Bureau's spring 2013 report, which includes data collected between October 2010 and September 2011 and between October 2011 and September 2012, 63% of adults above the age of 45 own a smart phone, while 12% own a tablet or e-reader.
The report also shows that the 25% had made an online purchase in the past 12 months and accounted for almost $1.5 billion in annual online purchases.
Zoomer's websites for properties like Vision TV and Classical 96.3 FM will continue to operate independently of Everythingzoomer.com.