Kia gets into the fashion fold with Flare
The car company has integrated itself into a fashion spread in the Rogers Media title's September issue.
Kia is walking the walk…the catwalk that is, when it comes to its focus on design by integrating its cars into a six-page fashion spread in the September issue of Rogers Media's redesigned Flare magazine.
The car company, which is placing an increased focus on design this year, arranged the deal to have the car inserted into an otherwise regular fashion spread in the magazine through talks between its media agency ZenithOptimedia and Rogers Media.
Michael Fielding, VP group account director, ZenithOptimedia, tells MiC the media company didn't immediately agree to the placement, which has Kia's 2014 Optima, Cadenza, Soul and Rondo positioned in an otherwise normal fashion spread in the magazine.
"We know that models in fashion spreads are always posing with something so we thought why not position them with cars?" says Fielding. "We wanted the spread to be positioned in a way where the cars would work with the content because if readers thought it was advertising then we would be missing out on the opportunity to get their attention. Flare was very careful on the other side as well, because they didn't want it to appear blatantly as advertising."
The "Style Drivers" spread includes behind-the-scenes videos and photos in the magazine's online and tablet editions. Fielding says the execution cost more than a typical cross-platform magazine ad placement, but wouldn't disclose the value of the transaction.
Brandon Kirk, VP corporate sales, Rogers Publishing, says talks to arrange the integration began in February, and describes it as the kind of program that "doesn't appear on a rate card."
The spread isn't labelled as advertising and is denoted on the lead page of the section as being "in partnership with Kia."
"There is so much more out there then the traditional ad message and it is [our responsibility] as vendors to strive to find what that balance is [between editorial and advertising]," he says. "The ad page is as effective as it has always been but it is also important to try and do more, and to find the right way to do that."
Kirk adds the section is being promoted in ads on Flare's redesign across Rogers Media's radio stations, which point people towards the "Style Drivers" in partnership with Kia spread.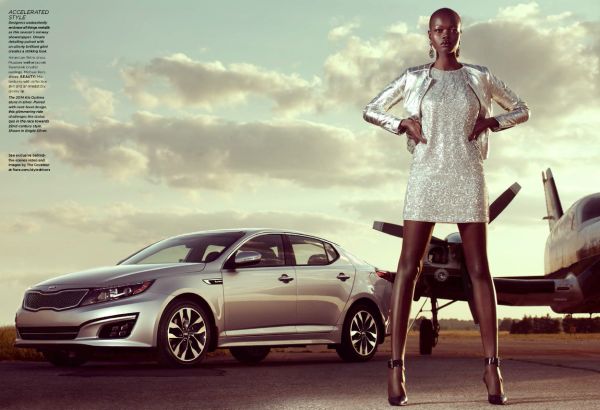 Photos courtesy of Rogers Media