The Globe and Mail adds MOAT Analytics
The publisher is adding the brand metrics to larger campaigns to supplement traditional analytics like click-through rates.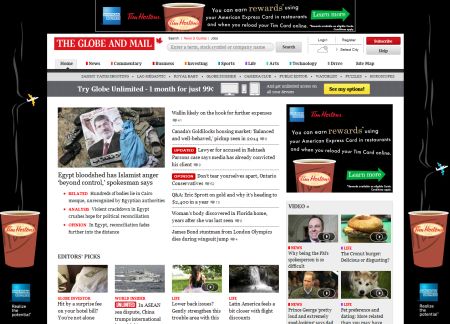 The Globe and Mail is adding MOAT Analytics to its digital properties to supplement traditional online metrics for larger brand campaigns.
Cynthia Young, director of digital advertising products and innovation, the Globe and Mail, tells MiC that MOAT Analytics aims to measure the time between ad impressions and clicks, with metrics including in-view rate, in-view time and attention quality. She says the media company is adding the brand metrics to the site to allow for greater measurability of readers who are looking at the Globe's long-form content online.
"In digital media you can buy against eyeballs, against clicks or against response rates but you can't really buy anything from a brand perspective in terms of the amount of time you get in front of a user," she says. "With a premium publisher with long-form content we see more time spent on the site and that's the thing we are looking to prove, what is the value of the time spent on site for the brand?"
Jonah Goodhart, CEO and co-founder of MOAT Analytics, says in a release that the Globe and Mail is the first Canadian publishing partner for the company.