Cottage Life reveals fall programming
The newest Blue Ant Media TV property launches Sept. 4 with series like The Fabulous Beekman Boys (pictured) and Buying Alaska.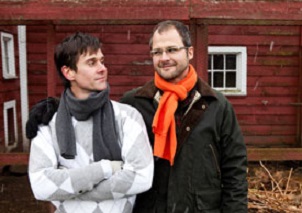 Blue Ant Media has announced the fall schedule for its latest TV property, Cottage Life, which will launch Sept. 4 with a lineup of cottage-themed lifestyle, food and DIY series.
Epic, a series about extravagant cottage amenities and the people who design them, will lead off the schedule, premiering Wednesday Sept. 4 at 9 p.m., while Selling Big, which follows auctioneers the Ritchie Bros as they sell off large industrial equipment, will follow at 10 p.m.
Cottage Life's Thursday lineup kicks off Sept. 5 with Buying Alaska, a series about the unique properties and the breathtaking surroundings of the state, premiering at 9 p.m. Meanwhile, My Retreat, which showcases iconic and quirky cottages, debuts at 9:30 p.m., followed by Compete to Eat, a cottage cook-off series, at 10 p.m.
Farm Kings, which follows the trials and tribulations of the King Family of Freedom Farms, joins the lineup Tuesdays at 9 p.m starting Sept. 10, followed by The Fabulous Beekman Boys, a series featuring former Amazing Race competitors as they learn the ropes of farming, at 10 p.m.
Jennifer Mason, director of marketing communications and on-air, Blue Ant Media, tells MiC that both ad and custom integration and sponsorship opportunities are being offered around the fall lineup.