Capital One ends the pain
The credit card company is focusing on Promoted Tweets for the first time in its new campaign for the Aspire Travel World Mastercard.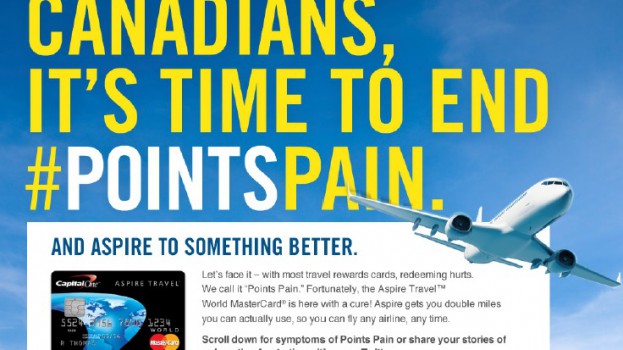 Capital One Canada is looking to help Canadians deal with the hassles associated with redeeming credit card reward points in a new campaign for its Aspire Travel World MasterCard.
With media by MediaVest and creative by Taxi, the campaign targets eligible credit card applicants who earn a personal income of $60,000 or a combined household income of $100,000. The initiative relies primarily on social media, where Capital One is driving conversation and urging consumers to share their credit card reward redemption horror stories using the hashtag #PointsPain.
The credit card company is using promoted posts on Twitter and Facebook as well as search advertising, and will be launching a microsite as a platform to promote the Aspire card as the solution to ending "points pain."
Andrew Clarke, principal communications associate, corporate communications, Capital One Canada, tells MiC this campaign marks the first time Capital One Canada has relied on Twitter as its primary media.
He says that Twitter is the ideal platform because it allows Capital One to create an authentic two-way conversation with its consumers around a topic they can relate to. He says now is the right time to launch this campaign, pointing to the increasing frustration of consumers when it comes to redeeming rewards points and changes that are occurring in the travel rewards landscape .
Clarke says the campaign is part of Capital One's broader strategy to seek greater consumer input going forward. There is  currently no set end date for the initative.