Driving relaunches with responsive design
The Postmedia-owned automotive hub has also introduced a scrolling header with a new ad unit integrated into it and additional display and pre-roll opportunities.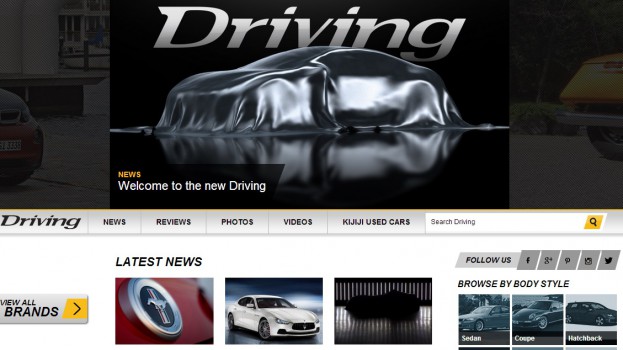 Postmedia's digital automotive hub Driving.ca has relaunched and restyled its website with responsive design, to optimize the user experience across desktop, mobile and tablet.
Cole Reiken, VP of digital businesses, Postmedia, tells MiC that the new focus on a multi-platform approach was prompted by consumer research that suggested that users were spending an increasing amount of time on the site on mobile and tablet, adding that Postmedia also saw an opportunity for Driving to grow its market share in the mobile sphere.
The relaunch also includes an editorial rejig, which will see Driving.ca focus on content around new cars and auto events, leaving used cars to its partner Kijiji.
Reiken says that Driving.ca has also shaken up the site's user flow to better deliver content based on vehicle types and categories.
"Users consume content based on what they're shopping for, not based on the content. If they're considering SUVs, they want a resource where they can consume everything about SUVs in one go," he says.
He adds that the new user flow will open up new opportunities to advertisers, allowing them to dominate specific vehicle categories to promote their brands. Additionally, the site will now support IAB Rising Star ad formats across all its platforms, as well as offer more opportunities for content integration and pre-roll ads.
Driving.ca is also introducing a new scrolling header that will feature the site's top five stories and an exclusive ad placement integrated into it.
According to comScore numbers provided by Postmedia, Driving.ca reached an average of 537,000 unique visitors over the past three months.