Bacardi to unveil new attitude in 2014
The rum brand's "Untameable" campaign will target millenials with new TV ads and taglines, and will run through most of next year.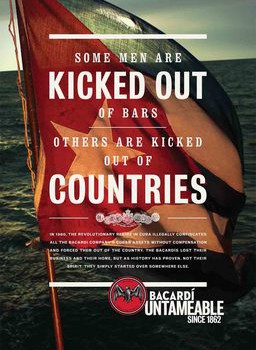 Bacardi's new attitude will arrive in Canada in spring 2014 with their "Untameable" campaign. The new work includes a logo redesign inspired by the hand-drawn bat logo used by the brand in the early 1900s, and taglines like "Some Men are Kicked Out of Bars – Others are Kicked Out of Countries."
Nadine Iacocca, brand director, rums, Bacardi Canada, tells MiC that new style and taglines aim to associate the rum with the Bacardi family's legacy of "irrepressible spirit," something they hope will connect with their target: millennials, specifically men 19 to 29. It's a demo that has their own obstacles to overcome including entering the job force, political turmoil and environmental issues, Iacocca says. She claims Bacardi is attempting to be open and transparent about their history in terms of what they've overcome as a brand and the Bacardi family overcame as individuals, including earthquakes and exile from Cuba.
Canadian media plans are still being firmed up, but Iacocca tells MiC that there will be a staggered launch in April/May 2014, with peak periods running April through August as well as November to December, representing some of the brand's biggest sales volume months. "But they also represent key times of the year when the millennial target is really paying attention to (Bacardi's targeted) media outlets," says Iaococca. "Times like the May long weekend, the holiday season and back to university timing."
With media by Denneboom and global creative by BETC London, the Canadian campaign will focus on TV, OOH and experiential, with some print. Iacocca adds that Bacardi continues to perform strongly in the digital space versus other alcohol brands and they'll be considering activating with YouTube and other site that optimize video. Community will be handling the local experiential and some optimization of the global content. Bacardi Canada will continue their work on Facebook with digital agency Grip Limited.