Next Issue Canada promotes launch
The new Rogers Media initiative has kicked off a cross-platform advertising campaign to let consumers know about its 30-day free trial.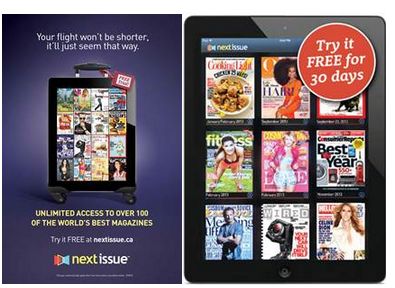 Rogers Media is promoting today's launch of Next Issue Canada, the media co's new Netflix-style all-you-can-read digital magazine subscription service with a multi-platform campaign.
The new service launches with a 30-day free trial today, with access to the more than 115 Canadian and US titles. With media by OMD and creative done internally, the campaign will appear predominantly through ads across Rogers Media's assets on TV, with radio ads across its 23 stations, on its digital sites and in its magazines.
In addition there will be OOH ads promoting the launch of Next Issue Canada in high-traffic commuter areas in markets like Toronto, Calgary and Vancouver. A commuter program at Toronto's Union Station and at Pearson International Airport and Billy Bishop Airport will see brand ambassadors handing out postcards and screen wipes promoting the launch and educating consumers about the service.
A Rogers Media representative said the company would not comment on the value of the launch campaign, but that Next Issue Canada is a "strategic growth initiative for the company" as it adapts to the way its audiences consume content.
Following the first 30-day free trial, Next Issue Canada costs $9.99 a month for monthly titles and $14.99 per month for the monthly and weekly titles available.
When Rogers Media announced it was launching Next Issue Canada earlier this fall, the media co's president Keith Pelley called it a "game changer" and "the most important strategic initiative that we've launched during my tenure," adding that it will have a huge impact all the way through the publishing infrastructure in Canada.
Pelley said Next Issue Canada will offer advertisers greatly improved audience intelligence, allowing them to know when and what readers are consuming, and target specific demos precisely.
Jason Tafler, chief digital officer, Rogers Media, added that for now most ads in the digital magazines will be directly from their print counterparts, noting that more interactive ad formats will begin to roll out in early 2014.