HGTV's Timber Kings premieres to timeslot win
The new factual series, targeting a new demo for the net, debuted Jan. 5 to a specialty win in the 10 p.m. timeslot.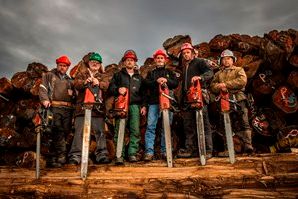 Timber Kings, the latest original series from HGTV Canada, is so far proving to be a win for the network.
According to Shaw Media, the Sunday, Jan. 5 premiere of the series took the top spot across all specialty channels in the 10 p.m. timeslot, including sports, earning an AMA of 370,000 (2+). Timber Kings was also number one for the night among entertainment specialty for males 25 to 54, and number two among entertainment specialty for adults 25 to 54. (All ratings: BBM Canada.)
Timber Kings follows master log smiths at Pioneer Log Homes in Williams Lake, B.C. as they build mutli-million dollar log homes under tight deadlines.
According to a spokesperson for the channel, HGTV Canada saw an opportunity to develop a new male demographic with the series and created a marketing plan reflective of the strategy.
To promote the show, the network used two separate on-air spots that were cross-promoted on Shaw Media channels. The network also did an extensive online buy for pre-roll to encourage audiences to sample the show, as well as radio ads in Ontario and Vancouver. The marketing campaign for Timber Kings also focused heavily on social media, which included ads for Facebook and Twitter.
People who visited the Timber Kings page on the HGTV Canada website were then re-targeted with a Facebook ad that highlighted the time the show ran on Sundays.
The network also wanted to ensure the show appealed to their existing viewers in addition to a more male-skewed audience. To achieve this goal, HGTV Canada made separate online and on-air ads to appeal specifically to male and female demographics. This is the first time the network has approached a marketing campaign in such a way.
Starting next week, viewers of Timber Kings can also participate in a watch-and-win contest that will run throughout the series. The prize is a trip to the Chilko Experience Wilderness Resort in B.C., where many of the buildings were made by the crew of Timber Kings.
From Playback Daily